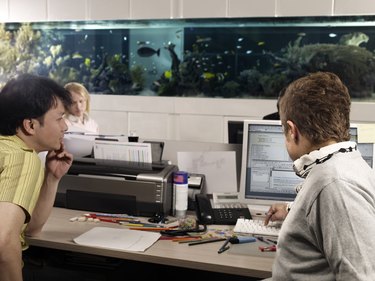 A DVD is an ideal way to burn data since it has a very large storage capacity, much more than a regular CD-ROM. You can burn movies, music, programs, games and documents, such as Microsoft Word and Excel, on DVD discs. DVDs are readily accessible since they are cheap and can be purchased in many places. Microsoft allows you to burn data onto DVD discs, with a few clicks, provided you have a DVD-burning drive.
Step 1
Insert your blank, recordable DVD into your computer's DVD-burning drive.
Step 2
Click on the "Start" button, then on the "My Computer" icon.
Step 3
Locate the Word document that you want to copy to the DVD and click on it.
Step 4
Select "Copy this File" under the "File and Folder Tasks" category.
Step 5
Click on the DVD-burning drive from the dialog box that appears.
Step 6
Type in a title for the DVD disc in the "Burn a Disc" dialog window and then click the "Next" button. The DVD will begin to burn and when the burning window closes, this means that your DVD will be completed and you document is successfully burned.
Things You'll Need
DVD-burning drive

DVD disc