The U.S. Postal Service recommends that you file a change of address two weeks before your actual move date. You can submit your change of address up to three months in advance or wait until much later, but it can often take a week before any of your forwarded mail is delivered to your new address. USPS charges a small fee to change your mailing address by phone or email, but there's no charge to submit a paper change of address form.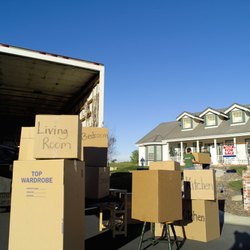 Step
Visit moversguide.usps.com. Choose between a permanent or temporary move and enter the date on which you'd like your mail to start forwarding to the new address. Fill in the required information, such as your name and your old and new addresses. Pay a $1.00 verification fee with a credit card or debit card to complete the process of changing your address online.
Step
Call 1-800-275-8777 to change your mailing address by phone. Answer all of the required questions and pay the $1.00 verification fee to complete the process.
Step
Obtain a copy of form PS 3575 from your local post office or ask your mail carrier to give you one. Fill out and sign the form, then bring it to your local post office, give it to a mail carrier or place it in a mail collection box. No postage is required on this form.