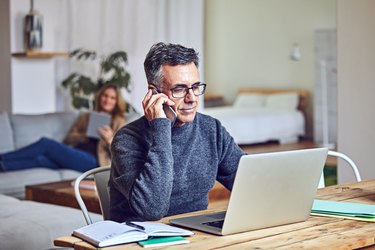 If you've ever had a relationship – whether it was with your high school sweetheart or your internet service provider – you know that one thing is nearly certain: relationships change. Whether you find the service lacking, have chanced into a better deal on rates, are moving house, or just want to cut some cords, moving on from your service provider is part of life.
About Optimum Online
Formerly owned by Cablevision, Altice now runs the show at Optimum, a long-standing provider of internet, phone and cable TV services in the New York Metropolitan area, including parts of Connecticut and New Jersey. While some things have changed at Optimum since the acquisition, the process you need to go through to cancel Optimum online service, phone service or cable service remains fairly consistent. In most cases, you've just got to pick up that phone.
Contact Customer Service
If you're ready to part ways with Optimum, cancel service by giving their customer service department a quick call. At least as of 2019, Optimum does not offer any other way to cancel, disconnect or terminate your service. There's no way to hit a toggle on your online account page or send an email request to this department, so you'll just have to put your best speaking voice on, pick up the phone and talk to an actual human being, old-school style. On the plus side, you'll be reminded that your smart phone can actually make phone calls .
The number you need to call varies by region, though. Here's the breakdown of Optimum customer service phone numbers for residential users, as of 2019 info from Optimum themselves:
Connecticut
203-870-2583
Long Island
631-393-0637
New Jersey
973-230-6048

New York (including Bronx, Brooklyn and Westchester)
718-860-3514
These help lines for residential customers are open from 7 a.m. to 11 p.m., Monday through Friday, and from 7 a.m. to 10 p.m. on Saturday and Sunday.
Optimum Business customers, on the other hand, have only one customer service phone number to call:
Optimum Business Customer Service 866-209-1099
Unlike the slightly more limited residential numbers, customer support for Optimum Business is open 24 hours a day, 7 days a week.
Before you pick up the phone, have your Optimum account number on hand for the service rep to make the transition as smooth as possible. You can find this number by logging in at optimum.net/pay-bill, by looking in the upper left-hand corner of your paper Optimum bill, or by tuning into channel number 900 if you have an Optimum cable box hooked up to your TV.
Bear in mind that, if you cancel or downgrade your Optimum service before you've completed any required promotional term which you initially agreed to, you may be subject to early termination fees. Sadly, you agreed to those fees when you signed up for the promo, too.
Return Your Devices: In Person
Once you've cut the Optimum cord, you still have to make things official. To do that, you'll need to return devices that you've been renting from the provider, such as your cable modem or cable box and remote, if you cancel Optimum TV service. Otherwise, you may wind up paying additional fees.
To finalize the cancellation of your service, you can drop off all Optimum equipment in person at any Optimum store location. Optimum hosts nearly three dozen locations in the following cities (check out their full list of store locations for the address, phone number and operating hours of the Optimum store nearest you):
Connecticut Bridgeport
Litchfield
Norwalk


New Jersey
Bayonne
Elizabeth
Fair Lawn
Freehold
Jackson
Oakland
Parlin
Paterson
Piscataway
Randolph
Seaside Heights
Union City
Wall Township


New York Bronx
Brooklyn
Greenwood Lake
Hauppauge
Hicksville
Huntington
Lindenhurst
Mamaroneck
Peekskill
Port Jefferson Station
Riverhead
Roslyn
Southampton
Wappingers Falls
West Nyack
Yonkers
Pop into the store, drop your gear and your Optimum breakup is complete.
Return Your Devices: By Mail
If an Optimum store isn't convenient for you (or you just don't like talking to people), you also have the option to return your equipment to the service provider via mail to complete your termination of Optimum service. Everything you wish to return should be packed neatly and safely in your own box. Don't forget the power cords, and be sure to enclose a copy of your Optimum bill. If a bill isn't handy, just write your name, street address, city, state, ZIP code and Optimum account number on a piece of paper and stick that in the box instead.
Optimum recommends that you print this FedEx shipping label after you type in your own information, including your first and last names, your current email address and street address. Affix the label to the box and drop the package at any authorized FedEx location (sorry, FedEx Drop Boxes don't count). Pro tip: In addition to FedEx offices, Walgreens is an authorized FedEx location, so head to the local drugstore if it's closer.
If you're only disconnecting temporarily as you make a move, you can return your equipment to the Optimum technician who installs your new gear at your new place (though you may also use your old devices, in some cases).
Altice requires that all equipment be returned in working order. They charge fees for unreturned, damaged or lost equipment, so make sure that modem is pristine.
After You've Disconnected
Optimum's terms of service state that, once you've canceled and disconnected, Altice is in no way responsible for forwarding any emails sent to a suspended or terminated Optimum email account. The company may ignore, delete or temporarily store emails from your old address at their discretion. Likewise, Altice reserves the right to reclaim your email address once you've canceled service. That means it's entirely up to you to back up emails from your old Optimum account, rather than lose them forever.
If You're Moving
So, what if you're moving house to a new location that's still covered by Optimum service? It's totally possible to disconnect Optimum services at your old place and carry them over to the new one without canceling your Optimum account or starting over. First, use Optimum's online tool to determine whether your new home is covered by the company's existing service area.
Before the big move, give Optimum a call at 866-257-4376 to set up an installation appointment at your new digs. Whether you're moving internet, TV or phone services, you may have the option to simply take your current equipment with you, or you may request new equipment. Either way, the Optimum technician will install the gear on the day of your installation appointment.
When you move to an applicable location in the New York metropolitan tri-state area, you'll keep your current Optimum ID and password and can still use Optimum Wi-Fi hot spots with no interruption while you wait for your new place to get online-ready. In the meantime, Optimum will forward Optimum Voice calls to your cellphone (if you're an Optimum Voice subscriber, that is). In some cases, you may be able to keep your phone number, too.
Additionally, you can visit the Optimum Voice homepage if you're a Voice subscriber to help ease the transition. From here, you'll be able to forward inbound calls to an alternate phone number (which can include your cellphone), enable the Find Me feature to make incoming calls ring on three simultaneous phone lines (in case you really don't want to miss a call), access your voicemail remotely online and even send voicemail messages as attachments directly to your email address.
Good news and bad news on the move front, though. While changing areas may make you eligible for better rates and new promotions, you may incur a charge or a rate change when moving, so remember to contact Optimum customer service for the details first.
If you're disconnecting your Optimum cable plan and not moving to a region covered by Optimum's service, you can call the company's free Cable Mover Hotline at 866-573-3849 or head over to CableMover.com to get a leg up on cable services in your new area.
Involuntarily Disconnecting
In some cases, Optimum may terminate or disconnect your service without your reaching out to them. For instance, if you move to an area outside Altice's service area without notifying the company, your user agreement may be terminated.
Other grounds for termination include not paying the total balance of your bill, or bouncing a check to Optimum due to insufficient funds. Even more broadly, the terms of service you agree to when you sign up for Optimum services state that, "Altice may terminate this Agreement, disconnect any or all Services, and remove Equipment at any time, without prior notice, for any reason whatsoever or for no reason." Of course, as scary as that sounds, it's pretty standard language for those endless terms-of-service scrolls that few of us bother to read.
Changes and Controversy
Altice's 2016 acquisition of Cablevision brought about at least one change that has riled up more than a few former Optimum customers, and it may be worth noting if you're considering canceling your service.
Back when Optimum was still owned by Cablevision, canceling service netted you a prorated bill. Under Cablevision, you'd only pay for the service days you used while your phone, internet or cable service was active. Not so with Altice. No matter what day of the month you cancel your Optimum service, the cancellation doesn't become effective until the last day of the billing period. Straight from the horse's mouth, "Optimum services remain available to you for the full billing period, and there are no partial credits or refunds of monthly charges already billed."
So, while that means that you can still use services like Optimum TV to Go, Optimum Wi-Fi hot spots, your Optimum email and other services until the last day of the billing period, it also means that, even if you call and cancel your Optimum services on the third day of the month and don't use them beyond that, you'll still pay for all 30 days of that month. And that may not be optimal.