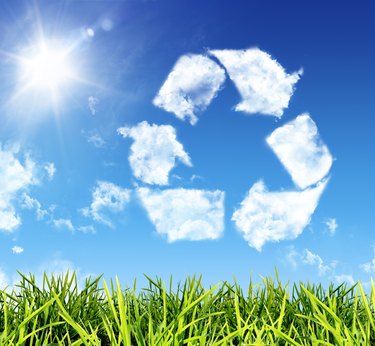 A lot of people tend to throw away batteries right along with the other household garbage, not thinking about how harmful it can be to the environment. However, there are proper ways to dispose of the lithium-ion batteries used to operate computers and other electronics. Even a used battery that has lost power still contains harmful chemicals, which can pollute the environment. The problem is that while most electronic products, including rechargeable batteries, can be recycled, nearly 75 percent of these recyclables continue to find their way into the nation's landfills. Therefore, we must each do our part to help protect the environment.
Step 1
Remove the used battery from the computer and place it in a resealable bag or other closed container. This prevents contamination if the battery leaks. Place only one battery in a bag or container. Be sure to carry out this safety measure as there can be enough juice left in a battery to cause a short circuit and ignite a spark if the battery comes into contact with the terminals of another battery. Cover battery terminals with adhesive or electrical tape as an additional precaution.
Step 2
Contact your local municipal authority or private trash collector to inquire about the policies for hazardous waste removal. Many municipalities have certain days when items considered to be hazardous are picked up or can be dropped off at an area recycling center. There may even be an ordinance in your town or city prohibiting disposing of rechargeable batteries in the regular trash. Residents can also go to official municipal website links where they can learn more. Some municipalities distribute print newsletters, which publish the recycling calendar along with listing the recycling services available.
Step 3
Check out local retail stores that sell computer equipment and batteries. A number of major retailers now provide recycle bins right in the stores. Collection points are found at many Staples, Office Depot, Best Buy, Target, Radio Shack, The Home Depot, Lowe's and Sears locations. Other retailers who sell computer batteries will often take back an old battery for recycling when you buy a new battery.
Step 4
Look into free recycling programs offered by computer companies like Dell, which allows consumers to print a prepaid shipping label from online. You can schedule a pickup either online at fedex.com or by calling 1-800-GO-FEDEX.
Step 5
Locate programs in your state that recycle electronics and electronic accessories like old computer batteries. Not every program accepts all types of electronics for recycling; therefore, you need to contact programs located near you for more details. (See resource below)
Step 6
Call toll free 1-800-8-BATTERY to find out more about any free recycling programs in your area. Take batteries to one of the drop-off sites, often located at a nationally known retailer. Rechargeable batteries are collected and then shipped to a recycling center.
Warning
Never dispose of a battery by throwing it into a fire to burn. The battery could ignite and explode. Do not store old, lithium batteries together with other batteries or metal objects, including coins, as being bumped together could cause a spark to ignite.