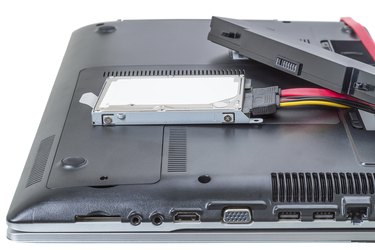 If you throw old laptop batteries in the trash, they end up in a landfill. The problem is, they contain hazardous materials such as mercury, cadmium and lead. These toxic substances harm the environment and enter the food chain, adversely affecting plants, animals and ultimately humans. Some states, such as California, classify batteries as hazardous waste and require residents to recycle them. Even if your state doesn't have battery disposal rules, you can do your bit for the environment by recycling your old laptop batteries.
Use Local Recycling Services
You may be able to use district or county recycling services to dispose of your laptop batteries. Often, you can recycle batteries at designated local retailers, community centers, town halls, police and fire departments, libraries or waste disposal facilities. You can find information on local services on state, county or city websites, or ask at your public library.
Recycle Batteries in Stores
Some states require certain retailers to recycle rechargeable batteries at no cost to consumers. New York state, for example, has a rechargeable battery law. Residents can take laptop batteries into any store that sells these batteries, or the equipment that uses them, for recycling. Retailers have to accept the batteries even if you didn't buy them from the store and you don't have to make a purchase. If your state doesn't have this kind of requirement, try national chains such as Best Buy, Lowe's, RadioShack, Staples and The Home Depot, all of which run free recycling services.
Find a Call2Recycle Collection Point
Call2Recycle is a nonprofit battery stewardship program. It works with businesses and municipalities to collect and recycle batteries by setting up free public collection sites across the U.S. If your town or city doesn't run its own program or doesn't participate in Call2Recycle, you may find a local store that does -- the program works with large retailers and small stores. You can find your nearest collection points by using the Call2Recycle online location finder.
Use Manufacturer Recycling Programs
Your laptop manufacturer may be able to recycle your batteries for you. Some manufacturers, including IBM, run a mail recycling service, and Apple will recycle Mac batteries for you if you take them to any of its retail stores. At the time of publication, many major manufacturers, such as Acer, Hewlett Packard, Lenovo, Sony and Toshiba no longer run their own battery recycling services but use the Call2Recycle program.
Use an Online Collection Service
Some online recycling companies accept laptop batteries. Typically, you pay for the service, buying a box which you then fill and return to the company. The company pays shipping costs. Given the fact that this service is not free, it may suit you only if you don't have access to a local free recycling service or if you have a lot of other items to recycle, such as other types of batteries and rechargeable electronic devices.