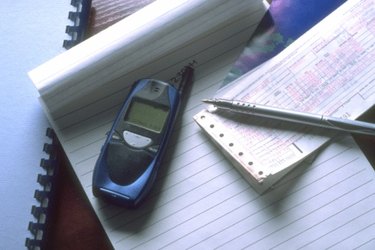 You might be prepping for an upcoming court case, or just checking to find out who is calling/texting your child. When you need printed records of all incoming and outgoing calls, there are a number of ways to get them, depending on your service provider's legal requirements. While some phone companies will provide a call detail history once annually to customers upon written requests, others may require a subpoena--even if you are the account holder.
According to both FCC rules and the Telephone Records and Privacy Protection Act of 2006, the only times when the law allows pulling another person's telephone records are: 1) with a subpoena for a relevant court case, 2) in law enforcement investigations, and 3) by the account owner's written authorization.
Landline Phones
Step 1
Sort through your phone bills. A call detail page is part of each month's statement. If your phone company doesn't provide a call detail page or you have paperless billing, move on to step 2.
Step 2
Sign up for online account management with your phone service provider. Log in with your password and search for your past billing statements. You can narrow the search by date then print the call detail record for that specific date range.
If you don't have Internet access or your phone company does not offer online billing, proceed to step 3.
Step 3
Call your phone service provider and request hard copies of your previous monthly billing statements for the time period in question. Be prepared to verify your identity and legal ownership of the account or that you have written authorization from the actual account holder to access the records.
Wireless Phones
Step 1
Log in to your wireless provider's online account management system and review past billing statements. Several cell phone companies provide detailed call history records online, making it simple to search for and print what you need.
If your wireless phone is prepaid (such as TracFone or Net10), proceed to step 2.
Step 2
Call your prepaid wireless phone provider and ask it to send you a request form for your past phone records. Ask what, if any, other documents will be required from you to prove legal ownership of the phone. The requirements of various prepaid service providers will vary based on the company's customer privacy policy.
Step 3
Fill out the request form and/or prepare a notarized letter with the following information: your name, account holder's name (if different), billing address, cellular phone number, the phone's ESN/IMEI and a statement that you are the legal owner of that phone or the account holder's authorized representative. Enclose a copy of the letter of authorization from the actual account holder.
Some prepaid wireless companies such as TracFone will also require you to send a photocopy of the back of the phone itself, showing the ESN/IMEI sticker. This is most often found underneath the phone's battery compartment. If your phone was stolen, provide a copy of the police report instead.
Step 4
Specify clearly the time period you need call history records for in your written request. If the records are more than a year old, allow some extra time for processing the request. The company may need to pull older records from the archives.
Step 5
Send the documentation to your wireless provider via fax or postal mail. Most phone record requests are processed within 30 days. Reports are provided only by mail, not email or fax, so make sure you have at least a month's lead time if you need the call records for an upcoming court appearance.