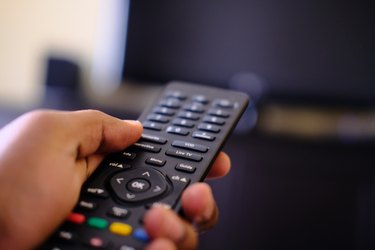 When you cancel your DirecTV service, you'll have a certain deadline for returning any leased receivers to the company before you face additional fees for unreturned equipment. The DirecTV return equipment process is often as easy as taking the receivers to a UPS or FedEx shipping center where someone handles the entire packaging and mailing process for you. If that doesn't work for you, the DirecTV representative might have a shipping kit and prepaid label shipped to your house so that you can arrange for a package pickup or drop the box off yourself.
Properly Cancel Your Service First
Before you can begin the DirecTV return equipment process, you'll need to gather the necessary information to cancel your service. This means looking for your latest billing statement so that you have your account number and contract handy. You should carefully read your contract to determine if you're liable for any early cancellation fees for both the service and your equipment leases.
Once you have this information, you can call 1-800-531-5000 to speak to a representative about processing the cancellation. The DirecTV support line is open every day between 8 a.m. and 1 a.m. in the Eastern time zone. When you call, be prepared for the representative to try to offer you a special discount or service offer as an alternative to canceling the service.
The representative will confirm which equipment you need to return and give you a deadline for when the equipment must be received, usually within 21 days of ending service. You won't need to worry about returning the dish, but you'll have to return any receiver that you lease rather than own. If the DirecTV representative says you don't need to return a receiver that you don't want, they might suggest that you recycle it locally, or they might offer to give you a label to return it for recycling.
Understand DirecTV Return Equipment Options
There are two different DirecTV return equipment methods your representative might request for you. In either case, you'll be sending the receivers back using UPS, FedEx or regular USPS mail.
The first method involves dropping off the equipment at a UPS or FedEx shipping center near you. This option means you won't have to worry about waiting for any box or return label to arrive. You'll need to simply have your account number handy and take the receivers to the shipping counter where the representative will handle the whole shipping process for you. They'll also hand you a proof of mailing that can come in handy if DirecTV disputes that you returned the equipment on time.
The other method involves having a shipping box and prepaid return label mailed to you. You'll need to pack the receivers yourself and send them to the location on the DirecTV return label address. Some labels may be for the regular post office, and in that case, you can take the box of receivers in person or give it to your regular mail carrier when they visit. Other return shipping labels may be for UPS or FedEx; if you don't want to drop the box off, you can pay a fee to have UPS or FedEx come pick up the receivers on a scheduled day.
Know the Consequences of Unreturned Equipment
After mailing your receivers back to DirecTV, you'll want to use the tracking number given to you to make sure it arrives at the destination. If you mail the receivers back too late or mail them back damaged, you can end up with a steep fee charged to your account. As of 2019, DirecTV gives a range of anywhere from $55 to $470 for any receiver that you fail to return.