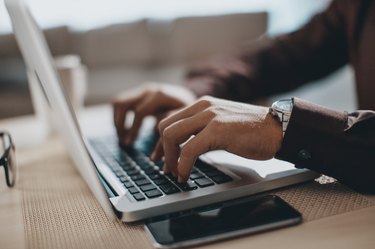 A fully-working antivirus solution is vital to keeping your computer safe. However, there may be an instance or two when you need to disable your antivirus. To launch a BitDefender shutdown, you'll need to open the Protection window and toggle options in several windows to the Off or Disable position, then turn them all back on once you're ready to protect your computer again.
How to Disable BitDefender
Some antivirus software interferes with processes or applications. When that happens, you may need to disable your antivirus temporarily to get things done. Unfortunately, BitDefender doesn't have a one-click close feature, which means you'll have to turn a number of things off to fully disable the application.
If BitDefender keeps turning off, on the other hand, it's likely a technical issue. Rebooting will hopefully resolve it but, if not, the same series of steps you use to temporarily disable the application could help you do a quick check to make sure everything that needs to be in the On position is.
Disable BitDefender Temporarily
For a temporary BitDefender shutdown, you'll first need to open BitDefender by double-clicking on the icon. Then follow the below steps.
Open the Protection window.
Choose Settings under Antivirus.
Choose the Shield tab, then click on the switch next to BitDefender Shield to turn it off.
When prompted, choose either Permanently or Until System Restart, then OK. This will disable BitDefender until you enable it.
Look for the Drives and Devices tab and disable Scan Mapped Network Drives.
Go to Protection Features and look for the Online Threat Prevention module. There, you'll need to click on Web Protection and turn off Web Attack Prevention, Search Advisor, Encrypted Web Scan, Fraud Protection and Phishing Protection. Also turn Network Threat Prevention off. Under Protection Features, you'll also need to disable Firewall, Advanced Threat Defense, Antispam, Vulnerability, Safe Files and Ransomware Remediation.
On the Privacy screen, select Configure next to Parental Control, choose the three dots next to your profile and select Devices. There you can uncheck the name of your PC and choose Save. You'll also need to select Off in the Webcam Protection and Password Manager modules.
Under Profiles, turn off Activate Profiles Automatically and Real-Time Optimization.
How to Delete BitDefender
If you want a more permanent way to disable BitDefender, you'll need to remove the application altogether. In Windows 10, go to Start and Settings, click on Apps and choose Uninstall when you find BitDefender. In Windows 7 and 8, you'll uninstall under Programs and Features in the Control Panel.
For permanent BitDefender shutdown on a Mac device, open your Finder and select Go from the top menu bar. Select Utilities, then run the BitDefenderUninstaller. Click Uninstall when prompted and input the Administrator password for your device. Once you have the confirmation that the software is uninstalled, go to Macintosh HD and Library, then move the BitDefender folder to Trash.
How to Enable BitDefender
Maybe you're dealing with a technical issue where BitDefender keeps turning off, or you just need to enable BitDefender after disabling it. To reenable it, reverse the steps you used to disable BitDefender to enable all of the modules you disabled. If you think you'll be doing this frequently, it may help to make note of everything you disable to know what to reenable and disable.
But if your BitDefender keeps turning off, there's a different set of steps to take. Try rebooting if you haven't already. If that doesn't work, and you're on Windows, turn it on from the Action Center. You can also open BitDefender and select Settings, then check to make sure On-Access Scanning is toggled on. Also check each module to make sure everything that needs to be toggled on hasn't been disabled at some point.