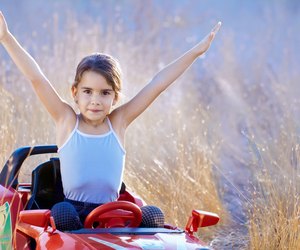 credit: StoykoSabotanov/iStock/GettyImages
Kids have to wait 16 years or so before they can legally get behind the wheel of a car. For parents, that usually doesn't feel like anywhere close to long enough. But for kids, it's way too long. Some kids are itching to start driving before they can efficiently walk, so who are we to keep that magic from them?
If your kids are begging to start cruising down the driveway/sidewalk/back up the driveway again, check out these really cool and safe electric cars. And they're all relatively affordable (most of them). Give your kids a sense of independence by giving them the gift of wheels.
Power Wheels Tough Talking Jeep Wrangler
This Fisher-Price Power Wheels Jeep doesn't just look cool, it IS cool. It has working doors, spacious storage in the back and two options for speeds: slow and slower. Restrict the speed to 2.5 mph or allow your kid to go full throttle, topping off at 5 mph.
The off road tires allow the car to be driven on both grass and hard surfaces. So many adventures await!
Available on Amazon for $240.
Power Wheels Disney Frozen Jeep Wrangler
The Frozen Jeep Wrangler has all the same features as the one above, except it comes with Frozen stickers.
Buy it on Amazon for $235.90.
Power Wheels Ford Lil' F-150
Power Wheels really knows the way to a kid's heart. This Ford truck is meant for off-roading — in a safe environment, of course. Once the 12-volt battery is fully charged, your kids can drive it around for one to three hours, depending on the terrain.
Although it may look like it goes super fast, the truck can only get up to 2.5 mph or 5 mph. But for most little kids, that's fast enough.
_Check it out on Amazon for $169.37._
Power Wheels Kawasaki KFX
Give your kids the thrill of driving an ATV! It comes in two styles: Pink Barbie and Hot Wheels. Power Wheels is apparently big on gender stereotypes, but of course your kids can ride whatever style they want, despite their gender identity.
The Kawasaki KFX comes with real wheels, as opposed to plastic ones, and can easily take on rough terrain like grass or a small hill.
Buy it on Amazon. The price ranges from $184 to $194.
Power Wheels Nickelodeon Paw Patrol Lil' Quad
Perfect for toddlers, the speed maxes out at 2 mph, so it's incredibly safe. The Lil' Quad comes in five different styles: Paw Patrol, Barbie, Batman, Dora & Friends and Lil' Kawasaki.
It's really easy to operate, making it the perfect first electric car.
Prices range from $58 to $119 on Amazon.
Ferrari LaFerrari Kids Electric Ride On Car
Who wouldn't want to drive a Ferrari? This car looks exactly like an actual Ferrari, but smaller. It has the official Ferrari licensing, so it's legit as they come. It comes with a customized bumper, functional rear lights and turn signals and adjustable seat belts.
It also comes equipped with an MP3 auxiliary setup with built-in speakers. Not bad, Ferrari. Not bad.
Available on Amazon for $329.
Mercedes Benz G63 12V
Your kids will definitely be riding in style with the Mercedes Benz G63 12V. This car has a sporty, rugged, off-road vibe that you'll probably want to drive just as much as your kids — if not more.
It comes with a music player and has the option for a leather seat upgrade.
Buy it for $269 on Amazon.
Moderno Kids Licensed Mercedes SLS AMG Final Edition
Mercedes is on a whole other level when it comes to electric cars for kids. Just look at this beauty.
The car comes with an MP3 player and MP4 color LCD entertainment center and rocks an original Mercedes-Benz SLS AMG color matching spray painted body. Not bad for a kid's first car.
Available for $450 from Amazon.