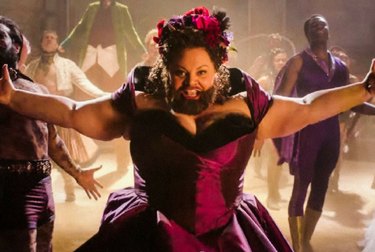 Welcome to Hulu's list of all the TV shows and movies coming in September. It's a long one, full of award-winning movies, season premiers of your favorite shows, and a few Hulu originals.
Since it's almost Halloween season, Hulu is helping you prepare by offering a whole bunch of scary films, including The Amityville Horror, The Fly, Signs, and American Horror Story: Cult, Jigsaw, Dressed to Kill, The Bone Collector, Joyride, and Pumpkinhead I and II.
Season premiers to look out for are Modern Family, This is Us, The Goldbergs, Total Divas, Dancing with the Stars, The Good Doctor, The Voice, Grey's Anatomy, South Park, and American Housewife.
Take a look at the full lineup below. Anything marked with an asterisks requires subscriptions in addition to Hulu.
September 1st
The Amityville Horror (1979)
The Bone Collector (1999)
Miracle on 34th Street (1994)
No Game, No Life: ZERO (2018)
The Perfect Weapon (1991)
Poltergeist II: The Other Side (1986)
Pumpkinhead II: Blood Wings (1994)
Rustlers' Rhapsody (1985)
Searching for Sugar Man (2012)
Small Town Saturday Night (2010)
There Will Be Blood (2007)
What Dreams May Come (1998)
What's Eating Gilbert Grape (1993)
September 2nd
The English Patient (1996)
September 3rd
The Miracle Season (2018)
September 4th
Women and Sometimes Men (2018)
September 6th
I Love You, America: new episodes (Hulu Original)
September 7th
Snatched (2017) (*Cinemax)
September 8th
Stand Up To Cancer: Special (EIF)
From Paris with Love (2009)
The Greatest Showman (2017) (*HBO)
September 9th
Kidding: Series premiere (*Showtime)
Shameless: Season 9 premiere (*Showtime)
The Deuce: Season 2 premiere (*HBO)
September 10th
REL: Series premiere (Fox)
Grace Jones: Bloodlight and Bami (2017)
September 11th
September 12th
September 13th
El Clon: Complete season 1 (Telemundo)
September 14th
12 Strong (2018) (*Cinemax)
The First: Series premiere (Hulu Original)
September 15th
Good Behavior: Complete season 2 (TNT)
Alien Invasion: S.U.M.1 (2017)
Pitch Perfect (2012) (*HBO)
September 16th
September 18th
American Horror Story: Cult: Complete season 7 (FX)
La Impostora: Complete season 1 (Telemundo)
Pasion De Gavilanes: Complete season 1 (Telemundo)
September 20th
Total Divas: Season 8 premiere (E!)
BB King: On The Road (2017)
This is Home: A Refugee Story (2018)
September 21st
All Eyez on Me (2017) (*Cinemax)
Aurora: Complete season 1 (Telemundo)
September 22nd
The Shape of Water (2017) (*HBO)
September 24th
9-1-1: Season 2 premiere (Fox)
September 25th
Dancing with the Stars: Season 27 premiere (ABC)
The Good Doctor: Season 2 premiere (ABC)
Manifest: Series premiere (NBC)
The Resident: Season 2 premiere (Fox)
The Voice: Season 15 premiere (NBC)
UFO Chronicles: The Black Vault (2018)
September 26th
Dama y Obrero: Complete season 1 (Telemundo)
The Gifted: Season 2 premiere (Fox)
Lethal Weapon: Season 3 premiere (Fox)
New Amsterdam: Series premiere (NBC)
This is Us: Season 3 premiere (NBC)
September 27th
A Million Little Things: Series premiere (ABC)
American Housewife: Season 3 premiere (ABC)
Chicago Fire: Season 7 premiere (NBC)
Chicago Med: Season 4 premiere (NBC)
Chicago P.D.: Season 6 premiere (NBC)
Empire: Season 5 premiere (FOX)
The Goldbergs: season 6 premiere (ABC)
Modern Family: Season 10 premiere (ABC)
Single Parents: Series premiere (ABC)
South Park: Season 22 premiere (Comedy Central)
Star: Season 3 Premiere (Fox)
September 28th
The Good Place: Season 3 premiere (NBC)
Grey's Anatomy: Season 15 premiere (ABC)
How to Get Away With Murder: Season 5 premiere (ABC)
Insidious: The Last Key (2018) (*Cinemax)
Law & Order: Special Victims Unit: Season 20 premiere (NBC)
September 29th
The Cool Kids: Series premiere (Fox)
Dateline: Season 28 premiere (NBC)
Hell's Kitchen: Season 18 premiere (Fox)
Last Man Standing: Season 7 premiere (Fox)
Phantom Thread (2017) (*HBO)
September 30th
Nicky Ricky Dicky & Dawn: Complete season 4 (Nickelodeon)