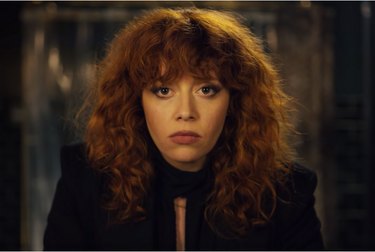 Netflix released its monthly lineup of new movies and TV shows, and there's a lot happening in February.
If Valentine's Day is your thing, you'll probably be happy to know that a bunch of romantic comedies are heading to Netflix just in time to get all kinds of romantic with your partner. Expect to see classic rom coms, including As Good as It Gets, The 40-Year-Old Virgin, Pretty in Pink, About a Boy, and three American Pie movies. Those are rom com-ish, right?
You'll also be able to watch all four Jaws films, ¡Nailed It! México, and collection 2 of Jeopardy!.
If dark comedies are more your speed, check out the Netflix Original series Russian Doll, starring Orange Is the New Black's Natasha Lyonne. It's about a young woman who relives her birthday over and over again, restarting each day when she dies a weird (and of course, hilarious) death. Lyonne co-created the show with Amy Poehler and Leslye Headland.
February 1st
Free Rein: Valentine's Day
February 2nd
Romance is a Bonus Book (streaming every Saturday)
February 3rd
Disney's Beverly Hills Chihuahua
February 5th
Ray Romano: Right Here, Around the Corner
February 6th
February 8th
Kevin Hart's Guide to Black History
One Day at a Time: Season 3
ReMastered: The Two Killings of Sam Cooke
The Epic Tales of Captain Underpants: Season 2
February 9th
February 10th
Patriot Act with Hasan Minhaj: Volume 2 (streaming every Sunday)
February 11th
Flavorful Origins: Chaoshan Cuisine
February 14th
Ken Jeong: You Complete Me, Ho
February 15th
Larry Charles' Dangerous World of Comedy
The Dragon Prince: Season 2
February 16th
February 21st
February 22nd
Paris Is Us (Paris est à nous)
The Big Family Cooking Showdown: Season 2
The Photographer of Mauthausen
February 25th
February 26th
February 27th
February 28th