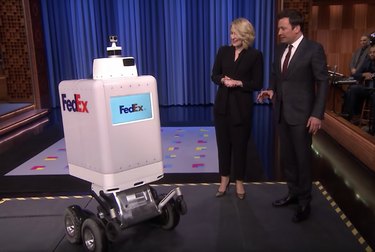 Three incredibly impressive robots made appearances on The Tonight Show Starring Jimmy Fallon. Fallon was so impressed by their abilities, he referred to them as being "the future." And he's definitely not wrong about that.
First up are were group of drones that can intensely follow commands. Then a penguin robot showed off its jump roping skills. Because who doesn't love a jump roping penguin?
But the most impressive robot of the future (but it's actually happening right now) was the new FedEx SameDay autonomous delivery bot that the company unveiled on the show. Yeah, the future is now.