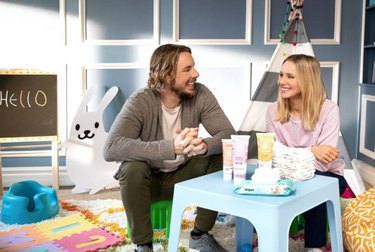 As if we needed a reason to love Kristen Bell and Dax Shepard even more, the celeb couple recently launched a new line of baby care necessities, and they're all plant-based and... get this... affordable!
Bell and Shepard are obviously super hilarious and successful at being actors, but they're also incredibly relatable as parents (as you'll find out quickly if you follow Bell or Shepard on Instagram). So, the next logical step was for them to spend several years coming up with baby products, alongside a team of experts, that they'd want to use on their own kids—and to make them affordable so their family members who aren't rich celebrities can also afford them. And subsequently, all of us too.
Hello Bello offers a "complete line of products to give every parent access to high-quality, better-priced everyday essentials that are better for babies, budgets and the planet," according to a press release. Can't beat that, right? Especially when the prices range from $2 to $24.
The company has every baby care item you'd expect: shampoo and body wash, conditioner, lotion (which is made with organic jojoba seed oil, organic avocado, calendula, and cucumber extracts), baby wipes, bubble bath, diaper rash cream, hand sanitizer, mineral sunscreen, bug spray, laundry detergent, and of course, diapers.
The diapers are hypoallergenic, eco-friendly, and effective. Plus, they're really soft and come in ridiculously adorable designs, like sleepy sloths, arrows, black rainbows, cars, pees in a pod, party poopers, clouds, etc. Diaper bundles are $65 and come with seven packs of diapers (that's 126 to 245 diapers, depending on the size) and four packs of wipes.
You can find the entire line of baby goodness exclusively at Walmart or on the Hello Bello website.