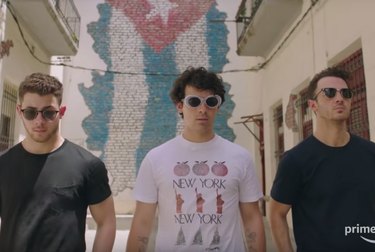 Summer is coming, and it's the perfect time to stay inside and watch copious amounts of television. Amazon Prime Video has you covered with a sizable list of TV, movies, and Originals.
Per usual, there's plenty of nostalgic content, including Austin Powers, The First Wives Club, Desperately Seeking Susan, Mission: Impossible III, the first five Rocky movies, the first two Airplane flicks_,_ and the first and third Rush Hour and Species installments.
There are also new seasons of the Amazon originals Absentia and Creative Galaxy, as well as Chasing Happiness, the new Jonas Brothers documentary that follows all three married brothers as they record new music together for the first time since 2013. Whether or not you're a JoBros fan, there will likely be enough Sophie Turner content to get you through your _Game of Thrones_–has–ended grief—so at least there's that.
Here's what to expect in June:
June 3rd
June 4th
Chasing Happiness (Prime Original Movie)
Creative Galaxy, Season 3 (Prime Original Series)
June 7th
June 13th
No Strings Attached (2011)
June 14th
Law Abiding Citizen (2009)
Absentia, Season 2 (Prime Original Series)
June 17th
Yardie (Prime Original Movie)
June 21st
Documental, Season 3 (Prime Original Series)
Final Life, Season 1 (Prime Original Series)
Tokyo Alice, Season 1 (Prime Original Series)
June 24th
The Spy Who Dumped Me (2018)
June 29th
June 30th
Airplane II: The Sequel (1982)
All American Zombie Drugs (2010)
An American Werewolf in London (1981)
Attack of the Herbals (2011)
Austin Powers: International Man of Mystery (1997)
Battle of the Bone (2008)
Blood of the Samurai (2001)
Carne the Taco Maker (2014)
Clean Guys of Comedy (2013)
Curse of the Zodiac (2007)
Desperately Seeking Susan (1985)
Frankenstein Reborn (2005)
Lawless: Dead Evidence (2000)
Lazarus: Apocalypse (2014)
Legend of the Sandsquatch (2006)
Mission: Impossible III (2006)
Mrs. Palfrey at the Claremont (2005)
Open Water 2: Adrift (2006)
Pledge of Allegiance (2015)
Prey for the Beast (2007)
Red Is the Color of (2007)
Rules of Engagement (2000)
Silo Killer 2: The Wrath of Kyle (2009)
Sounds of the Underground (2007)
Species: The Awakening (2007)
Stranger Than Fiction (2006)
Talladega Nights: The Ballad of Ricky Bobby (2006)
The 28th Day: The Wrath of Steph (2013)
The Bad Lieutenant: Port of Call - New Orleans (2009)
The First Wives Club (1996)
The Little Kidnappers (1990)
The Rules of Attraction (2002)
The Silence of the Lambs (1991)
The Sum of All Fears (2002)
The Women of Brewster Place (1989)
Vampire Boys 2: The New Brood (2013)
When Justice Fails (1999)
Xuan feng shi ba qi (1977)
Yong zheng ming zhang Shao Lin men (1977)
Zateryannyy v Sibiri (1991)
Zombadings 1: Patayin sa Shokot si Remington (2011)