Amazon's biggest sale of the year is coming up. This year, Amazon Prime Day is taking place on July 15th, and there's one big change worth noting—the deals will last a full 48 hours. So, it's more like Amazon Prime Days.
Discounts on thousands of items will begin on Monday July 15th at 12 a.m. PT / 3 a.m. ET, and last through 11:59 p.m. PT / 2:59 a.m. ET on Tuesday, July 16th.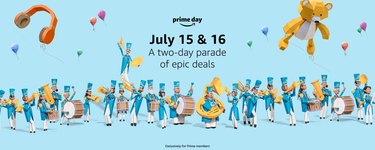 The deals are available for Prime members in the U.S., as well as members in the U.K., Spain, Singapore, Netherlands, Mexico, Luxembourg, Japan, Italy, India, Germany, France, China, Canada, Belgium, Austria, Australia, and United Arab Emirates.
Savings are expected to be big, especially on tech items like TVs, headphones, laptops, video games, and Amazon Echo and Kindle products. So, if you're due for an upgrade, July 15th and 16th might be the perfect time to make your move.