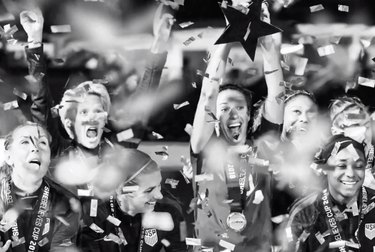 The U.S. women's national soccer team won the 2019 Women's World Cup. The four-time World Cup champions beat the Netherlands 2-0 in Sunday's championship game.
The entire team was nothing short of inspirational as they kicked ass and broke records, including scoring the most goals in a single World Cup match—for both men and women—when they beat Thailand 13-0, as well as challenging the unfair pay gap that awards the championship women's team significantly less prize money than the winning men's team.
Nike released an epic new commercial celebrating the accomplishments of the team both on and off the field, and it's probably safe to say that we all want to be Megan Rapinoe when we grow up.
Here's to raising the glass ceiling.