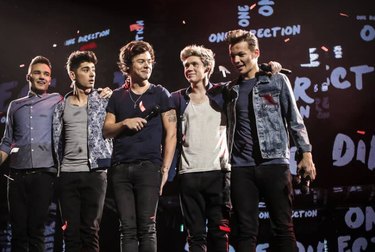 Hulu really wants you to never stop watching TV in October. The streaming service is bringing on so many new seasons of TV shows, including four seasons of Halloween Wars, three seasons of Halloween Baking Championship, as well as _Kids Halloween Baking Championship_—just in time for everyone's favorite spooky holiday.
You'll also be able to watch the series premiere of Kids Say the Darndest Things, added seasons of The Hills, Mountain Men, My 600-lb Life, and The Real Housewives of Atlanta.
In addition to practically endless TV shows, there are lots of new movies coming your way, including One Direction: This is Us.
If you're looking to set the mood for Halloween, check out The Haunting, The Haunting in Connecticut, and three Saw movies.
October 1st
Alien Encounters Seasons 2-3
American Pickers Season 19
Basketball Wives LA Seasons 1-5
Biography: The Trump Dynasty Season 1
Born This Way Seasons 3-4
Children of the Snow Season 1
Detroit: Comeback City Season 1
Diners, Drive Ins and Dives Season 26
Guy's Grocery Games Season 11
Halloween Baking Championship Seasons 1-3
Halloween Wars Seasons 4-7
House Hunters Seasons 110-111
Kids Halloween Baking Championship
Leah Remini: Scientology and the Aftermath Season 3
Many Shades of Jane Season 1
Murder in the Heartland Season 1
Paranormal Lockdown UK Season 1
Property Virgins Seasons 16-17
The Dead Files Seasons 7-8
The Dude Perfect Show Seasons 1-2
The First 48 Presents: Homicide Squad Atlanta Season 1
UFO Conspiracies Season 1
A.I. Artificial Intelligence
Diana Vreeland: The Eye Has to Travel
Hellraiser III: Hell on Earth
Hey Arnold! The Jungle Movie
Larry the Cable Guy: Health Inspector
Naked Gun 33 1/3: The Final Insult
One Direction: This is Us
Tales from the Darkside: The Movie
The Adventures of Buckaroo Banzai Across the 8th Dimension
The Haunting in Connecticut
The Naked Gun 2 1/2: The Smell of Fear
The Naked Gun: From the Files of Police Squad!
The Pirates! Band of Misfits
Wes Craven Presents: Dracula 2000
October 2nd
October 3rd
Almost Family Series Premiere
October 4th
Into the Dark: Uncanny Annie Episode Premiere (Hulu Original)
Light as a Feather Season 2, Part 2 (Hulu Original)
Saints & Sinners Season 4
The Real Housewives of Atlanta Season 11
Pegasus: Pony with a Broken Wing
October 5th
October  7th
Kids Say the Darndest Things Series Premiere
The Real Housewives of New Jersey Season 9
October 9th
October 11th
The Bravest Knight Season 1B (Hulu Original)
October 13th
October 14th
Letterkenny Season 7 (Hulu Original)
October 17th
Toni Morrison: The Pieces I Am
October 18th
Looking for Alaska Season 1 (Hulu Original)
October 20th
Catfish: The TV Show Season 7D
October 21st
October 22nd
October 23rd
Castle Rock Season 2 Premiere (Hulu Original)
October 25th
October 26th
Available in October with the HBO premium add-on:
October 5th
Gary Gulman: The Great Depresh
October 12th
October 19th
October 20th
October 21st
Catherine the Great Series Premiere
October 26th
October 27th
Mrs. Fletcher Series Premiere
Silicon Valley Season 6 Premiere
Available in October with the Starz premium add-on:
October 1st
Casper and Wendy's Ghostly Adventure
Casper, A Spirited Beginning
Fast Times at Ridgemont High
Girl with a Pearl Earring
Monty Python's The Meaning of Life
The Adventures of Rocky & Bullwinkle
William Shakespeare's Romeo & Juliet
October 5th
The Professor and the Madman
October 11th
The Man Who Knew Too Much
October 16th
October 18th
October 20th
Leavenworth Series Premiere
October 21st
October 23rd
October 31st
Barbershop 2: Back in Business
Available with the Showtime premium add-on:
October 26th