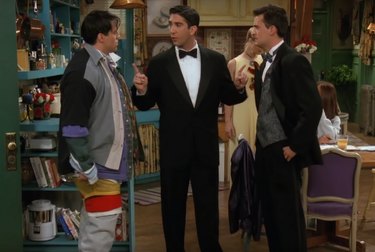 A Friends reunion is happening, and could we BE any more excited?
The entire original cast of Friends will reunite for an unscripted special that will air on HBO Max when the streaming service launches in May. Jennifer Aniston, Courteney Cox, Lisa Kudrow, Matthew Perry, David Schwimmer, and Matt LeBlanc will all be gracing us with their presence as Rachel, Monica, Phoebe, Chandler, Ross, and Joey.
Friends ended back in 2004 after 10 seasons and 236 episodes. Ever since, fans have desperately wanted a reunion. Sixteen years later, it's finally happening.
"Guess you could call this the one where they all got back together—we are reuniting with David, Jennifer, Courteney, Matt, Lisa, and Matthew for an HBO Max special that will be programmed alongside the entire 'Friends' library," said Kevin Reilly, HBO Max's chief content officer."
The whole cast posted the same photo announcing the reunion last week with the caption, "It's happening."
Well, everyone except LeBlanc. He did it wrong, but oh so right.
Looks like we'll all be signing up for HBO Max—the free trial, at least.