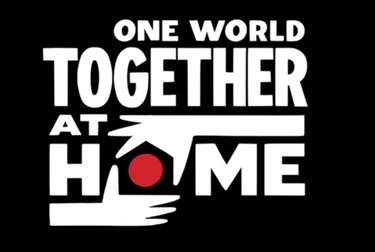 Lady Gaga curated a benefit concert that will air Saturday, April 18th along with Global Citizen and the World Health Organization, and the lineup is huge. One World: Together at Home is a two-hour virtual, no contact concert intended to celebrate the heroic efforts of health workers and support the WHO's rapid response to COVID-19.
Organizers say the show isn't a telethon, as all the money will be raised before the show begins. Instead, viewers are encouraged to sit back and enjoy fantastic music from by the world's most well known musicians, as they perform from the safety of their homes.
Co-hosted by Jimmy Fallon, Jimmy Kimmel, and Stephen Colbert, the event will feature appearances by Alanis Morissette, Andrea Bocelli, Billie Eilish, Billie Joe Armstrong, Burna Boy, Chris Martin, Eddie Vedder, Elton John, J Balvin, John Legend, Kacey Musgraves, Keith Urban, Alicia Keys, Amy Poehler, Awkwafina, Camila Cabello, Celine Dion, Ellen DeGeneres, Jennifer Lopez, LL Cool J, Lupita Nyong'o, Matthew McConaughey, Oprah Winfrey, Pharrell Williams, Sam Smith, Shawn Mendes, Taylor Swift, Usher, and Victoria Beckham.
One World: Together at Home airs Saturday, April 18 at 5 p.m. PT/8 p.m. ET on ABC, NBC, ViacomCBS Networks, iHeartMedia, and Bell Media networks. It will stream on Alibaba, Amazon Prime Video, Apple, beIN Media Group, Facebook, Instagram, LiveXLive, Tencent, Tencent Music Entertainment Group, TIDAL, TuneIn, Twitch, Twitter, Yahoo, and YouTube. Over $35 million has already been raised to help fight the COVID-19 health crisis.