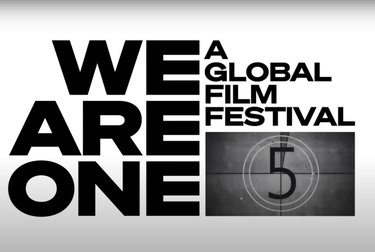 COVID-19 continues to rear her ugly head, causing much of the world to shut down, including the most prestigious film festivals. In partnership with Tribeca Enterprises, YouTube is hosting a 10-day virtual film festival with 20 festival partners, and you have a front row ticket.
We Are One: A Global Film Festival will run from May 29-June 7, 2020, and it'll be available at youtube.com/weareone. The programming will include feature films, shorts, documentaries, music, comedy, and panel discussions. It'll be completely free with no ads, but viewers will be asked to donate to COVID-19 relief, benefiting the World Health Organization and local organizations worldwide. Of course, donations are completely optional.
While the films premiering at the digital film festival haven't been announced yet, these are the participating festivals:
Annecy International Animation Film Festival, Berlin International Film Festival, BFI London Film Festival, Cannes Film Festival, Guadalajara International Film Festival, International Film Festival & Awards Macao (IFFAM), Jerusalem Film Festival, Mumbai Film Festival (MAMI), Karlovy Vary International Film Festival, Locarno Film Festival, Marrakech International Film Festival, New York Film Festival, San Sebastian International Film Festival, Sarajevo Film Festival, Sundance Film Festival, Sydney Film Festival, Tokyo International Film Festival, Toronto International Film Festival, Tribeca Film Festival, and Venice Film Festival.
If you're a film buff, you probably noticed that SXSW isn't on the list. The Austin-based film festival won't be involved in the We Are One event because of an existing partnership with Amazon.
We Are One kicks off on May 29th.