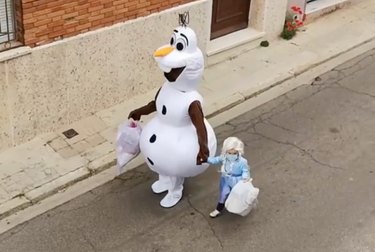 It's easy to get overwhelmed by all the bad news right now, so here's something good happening in the world—specifically, a small town called Puertollano in Spain.
A father named Jaime and his 3-year-old daughter Mara have been dressing up as different characters as they take out the daily trash. They go outside wearing head-to-toe costumes—different ones each day.
The neighbors seem to look forward to it, as they can be heard cheering for the father/daughter duo in videos posted to Jaime's Instagram page.
Here are some of the adorable videos: