Not all screen time is created equal. Vooks is a platform that offers screen time in the form of animated books that will ignite a child's love of stories.
Vooks is a streaming platform for kids that brings story time to life. The library is huge and full of read-aloud storybooks that your kids know and love, as well as books they have yet to read.
Books offered include classics, award-winning titles, new releases, biographies, as well as books based on age, and books about animals, being brave, and friendship.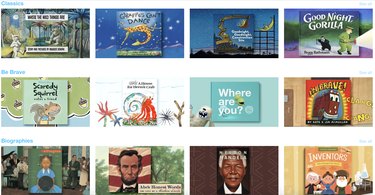 I was able to try Vooks with my 3-year-old daughter, and now she prefers to watch/listen to new stories instead of doing any other screen time (which is actually pretty shocking to me, but Daniel Tiger and Mickey Mouse Clubhouse must wait.) She selects books we don't have at home, which exposes her to diverse stories on topics she's interested in and can choose for herself.
The platform is completely safe for kids to use on their own. Parents can print out lesson plans and activity sheets that go along with the books. The stories are available to watch on tablets, smartphones, and computers.
We all know that reading to children has a major impact on their literacy and development, but according Vooks, "recent studies have demonstrated that animation combined with reading can enhance retention even further."
Get the first 30 days free, then each month is $4.99 or $49.99 annually. Sign up here.