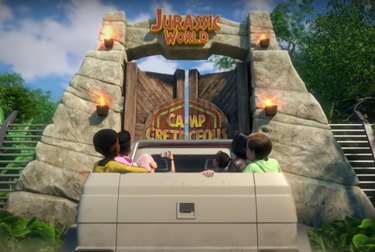 Humans just can't seem to learn their lesson when it comes to parks full of dinosaurs that want to eat them. This time, it's a group of kids whose parents think real-life dinosaur camp is a good idea.
Netflix has unveiled the trailer for Jurassic World: Camp Cretaceous, an animated series that follows six teenagers as they spend their summer at dinosaur camp on the other side of Isla Nublar. Things start to get dicey, as they always do at Jurassic parks, when the human-eating dinosaurs emerge—you know, t-rex and the like.
The 8-episode series, from Netflix and DreamWorks Animation and executive producers Steven Spielberg and Colin Trevorrow, takes place during the events that happened in Jurassic World.
Jurassic World: Camp Cretaceous premieres September 18th on Netflix.