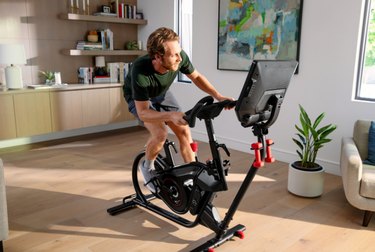 Bowflex keeps knocking it out of the park with its connected workout equipment—which is perfect timing for everyone's in-home gyms we've been forced to set up thanks to COVID-19.
The latest release is the Bowflex VeloCore, the very first exercise bike that "combines leaning technology with digital connectivity for a dynamic full body workout and an immersive digital experience." In other words, you can lean left and right to simulate a real outdoor ride or you can keep things stationary.
I was able to try out the bike, and as someone who gets pretty bored in indoor cycling classes (no one's fault but my own), the experience was impressive. The bike has so many bells and whistles, you really have to experience it for yourself to truly appreciate all of them. But I'll do my best to fill you in.
When the lean mode feature is engaged, your arm muscles and abs ignite, plus you have the option to use the 3 lb weights, making it a full body workout if you want it to be. There are 100 resistance levels, so you can tailor the ride to your needs.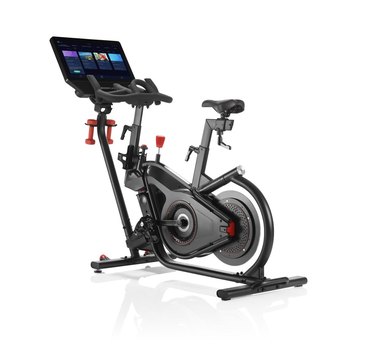 An HD touch screen console comes with the bike, and if you pay for Bowlfex's JRNY subscription ($19.99 a month after a free 2-month trial), you gain access to digital content. Explore the World videos take you to scenic destinations all over the planet, which include a virtual coach offering instructions, encouragement, and fitness tips during the ride. Plus, you can view a library of over 75 trainer-led cycling and workout videos with real-time feedback and tracking. There are workout options for all levels.
JRNY members can also stream Netflix, Amazon Prime Video, Hulu, and Disney+ on the screen while doing a workout. You just have to already pay for a subscription to whatever streaming service you use.
If you prefer to use a third-party cycling app like Peloton or Zwift, you can connect to those using a tablet, phone, or smart TV.
The ride is smooth, and if being connected digitally helps you get through a workout, this bike might be the one for you. The Bowflex VeloCore bikes are priced at $2,199 for the 22" console and $1,699 for the 16" console.