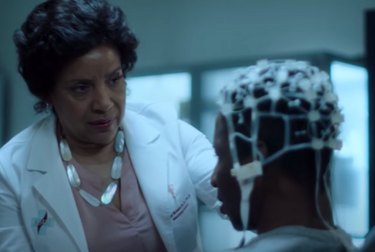 Amazon Prime Video is releasing a bunch of scary content in October — some of it is kid-friendly, while most is definitely not kid-friendly... it may not even be adult-friendly, depending on the adult.
Horror fans will very much be into Welcome to Blumhouse, an anthology series that's all about murder, deception, and suffering. Two double features will be released just in time for Halloween: Black Box and The Lie on Oct. 6 and Evil Eye and Nocturne on Oct. 13.
A little less intense is Truth Seekers, an eight-episode comedy series about paranormal investigators and Bug Diaries Halloween Special, a show for kids about friendly insect.
Sons of the Soil — Amazon Original Series: Season 1
John Carpenter's Vampires (1998)
Madea's Big Happy Family (2011)
Noose For A Gunman (1960)
Southside With You (2016)
Thanks For Sharing (2013)
The Gambler Wore A Gun (1961)
The Mothman Prophecies (2002)
The Wedding Planner (2001)
Triumph Of The Spirit (1989)
1992: Berlusconi Rising: Season 1 (Topic)
40 & Single: Season 1 (Urban Movie Channel)
America's Great Divide: From Obama to Trump: Season 1 (PBS Documentaries)
Cisco Kid: Season (Best Westerns Ever)
Cities of the Underworld: Season 1 (HISTORY Vault)
Cold Case Files Classic: Season 1 (A&E Crime Central)
Horror Noire: A History of Black Horror (Shudder)
Liar: Season 1 (Sundance Now)
Mrs. Wilson: Season 1 (PBS Masterpiece)
Mystery Road: Season 1 (Acorn TV)
PNS Kids: Spooky Stories!: Season 1 (PBS Kids)
Tales of Tomorrow: Season 1 (Best TV Ever)
The Great British Baking Show: Season 1 (PBS Living)
The Loudest Voice: Season 1 (Showtime)
Thou Shalt Not Kill: Season 1 (PBS Masterpiece)
Bug Diaries Halloween Special — Amazon Original Special
Savage X Fenty Show. Vol. 2 — Amazon Original Special
Black Box — Amazon Original Movie (2020)
The Lie — Amazon Original Movie (2020)
The Transporter Refueled (2015)
Terminator: Dark Fate (2019)
Chasing the Crown: Dreamers to Streamers — Amazon Original Series
Evil Eye — Amazon Original Movie (2020)
Nocturne — Amazon Original Movie (2020)
A Most Beautiful Thing (2020)
Time — Amazon Original Movie (2020)
What the Constitution Means to Me — Amazon Original Special
Mirzapur — Amazon Original Series: Season 2
What To Expect When You're Expecting (2012)
Battle Los Angeles (2011)
Truth Seekers — Amazon Original Series: Season 1
I'll See You In My Dreams (2015)