Let's be real, toddlers don't ​really​ care about Valentine's Day, but they do love presents. Instead of heart-shaped chocolate and other heart-shaped candy for your toddler, we put together a list of educational and fun toys to help challenge their growing brains. All of the toys on the list can be found on Amazon.
So, here are a bunch of learning toys to get your little ones for Valentine's Day (or any day, really). And maybe throw in a little chocolate too, just because.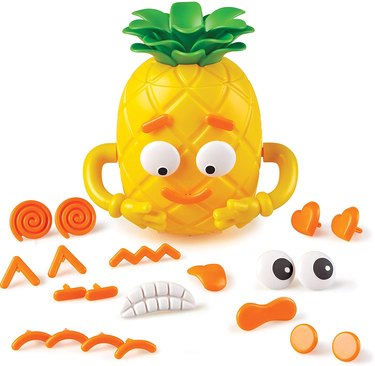 This toy from Learning Resources is great for preschoolers, as it helps them build their social-emotional learning skills with the faces they create. All 26 facial expression pieces are stored inside the pineapple to make your cleanup life easier.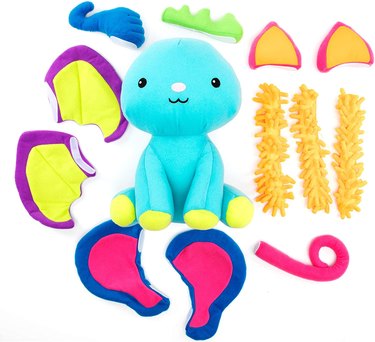 A cuddly creature that lets kids explore expressions through imaginative play. Toddlers can mix and match the 11 easy-stick pieces to give the Mixaroo different creative looks.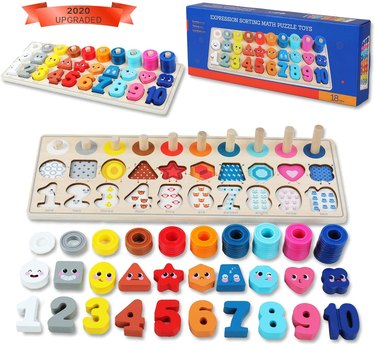 A wooden peg board for sorting shapes, colors, and numbers. It's a great tool to help toddlers develop colors, shapes, and numbers recognition, as well as hand-eye coordination and fine motor skills.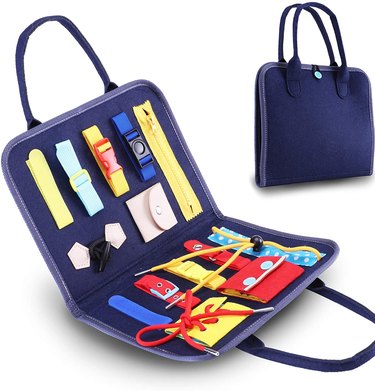 A busy board that will keep your kids, well, busy. It'll also help them develop their hand-eye coordination and ability to practice essential dressing skills. It includes buckles, shoe laces, a snap pocket, velcro, a zipper, and buttons.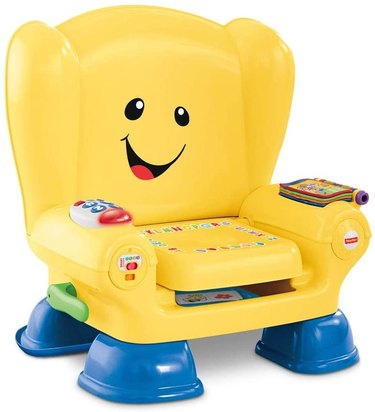 This interactive chair from Fisher-Price that comes equipped with over 59 sing-a-long songs, tunes, and phrases that teach first words, numbers, shapes, and colors. It's cute and educational, but it's also a chair. And we all know how much toddlers love chairs.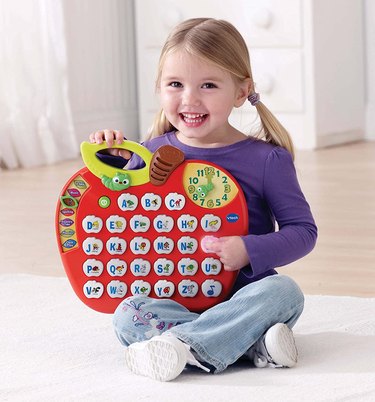 VTech's Alphabet Apple teaches kids the alphabet in a fun and interactive way. The letters light up, and there's also a clock so your kids can start to dabble in telling time.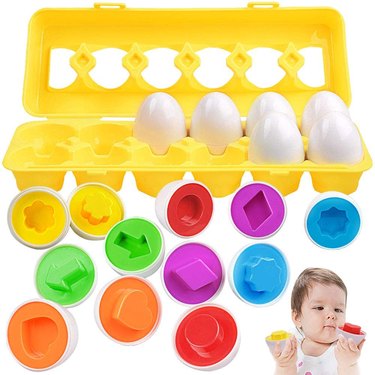 An egg carton with 12 eggs that have geometric shapes and colors inside for kids to match and put back together—or for ​you​ to put back together when your child doesn't feel like cleaning up.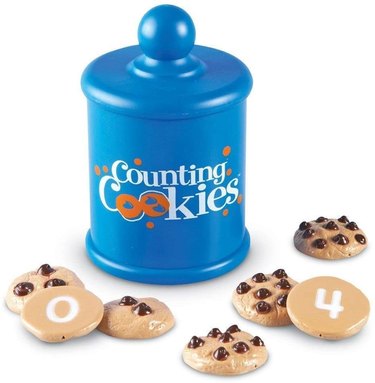 Counting Cookies is a toy from Learning Resources that comes with 11 cookies with numbers 0-10 printed on the bottom and the corresponding number of chocolate chips. The only thing better than a chocolate chip cookie toy is a real chocolate chip cookie.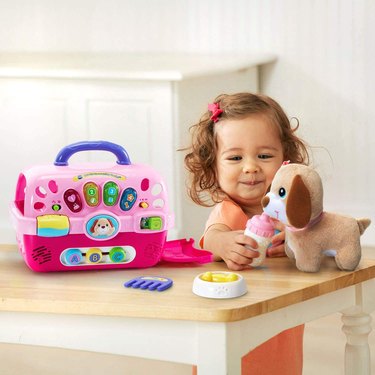 VTech's Learning Carrier includes a cute little plush dog and an interactive pet carrier to give your kids the chance to role play as a pet owner. The carrier plays over 100 songs, melodies, sounds, and phrases.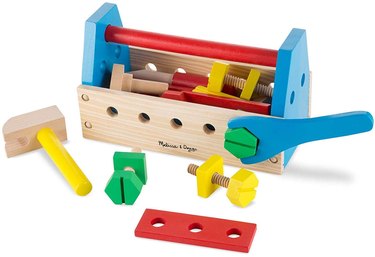 This Melissa & Doug Take-Along Tool Kit is perfect for toddlers who love fixing things—or at least pretending to fix things. It comes with 24 toddler-safe pieces, including a child-size play hammer, wrench, screwdriver, wooden nails, screws, nuts, and bolts.