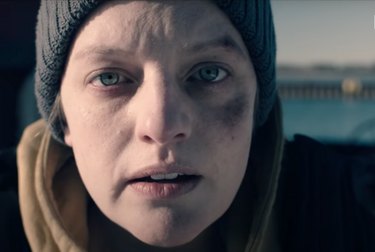 Hulu is very serious about you staying indoors and not enjoying the warmer weather. The streaming platform is bringing on so much content in April, you're really not going to have an option but to spend the entire month on the couch.
Coming next month are a whole bunch of new seasons of popular TV shows, classic films, and some Hulu Originals — including the fourth season premiere of ​The Handmaid's Tale.​
Also worth checking out is Amy Schumer's new cooking show, ​Amy Schumer Learns to Cook​ and the series premiere of ​Home Economics​ on ABC, as well all the throwback films you probably haven't seen in a while, including ​The Abyss​, ​The Color Purple​, ​Napoleon Dynamite​, ​Garden State​, ​So I Married an Axe Murdere​r, ​Waiting to Exhale​, and ​What About Bob?​
Amy Schumer Learns to Cook: Complete Season 1 (Food Network)
Caribbean Life: Complete Seasons 18 & 19 (HGTV)
Chopped: Complete Season 44 (Food Network)
Chopped Sweets: Complete Season 1 (Food Network)
Christina On The Coast: Complete Season 2 (HGTV)
Diners, Drive-Ins, and Dives: Complete Seasons 34 & 35 (Food Network)
Doubling Down with the Derricos: Complete Season 1 (TLC)
Extreme Makeover: Home Edition: Complete Season 1 (HGTV)
Guy's Grocery Games: Complete Season 22 (Food Network)
Naked and Afraid XL: Complete Season 6 (Discovery)
Say Yes to the Dress: Complete Season 19 (TLC)
Tournament of Champions: Complete Season 1 (Food Network)
Undercover Billionaire: Complete Season 1 (Discovery)
UniKitty: Complete Season 3 (Cartoon Network)
Vegas Chef Prizefight: Complete Season 1 (Food Network)
Worst Cooks in America: Complete Season 18 (Food Network)
Higurashi: When They Cry: Season 1, Epsiodes 1-12 (DUBBED) (Funimation)
A Hologram for the King (2016)
A Low Down Dirty Shame (1994)
Butch Cassidy and the Sundance Kid (1969)
Captain Kronos: Vampire Hunter (1974)
Cheech & Chong's Still Smokin' (1983)
The Devil's Double (2011)
Devil in a Blue Dress (1995)
Die Hard With A Vengeance (1995)
Dirty Rotten Scoundrels (1988)
Dude, Where's My Car? (2000)
Four Weddings and a Funeral (1994)
Friends With Benefits (2011)
Girl with a Pearl Earring (2003)
Into the Arms of Strangers: Stories of the Kindertransport (2000)
Larry The Cable Guy: Health Inspector (2006)
Live Free Or Die Hard (2007)
Madea Goes To Jail (Theatrical Feature) (2009)
The Man Who Could Cheat Death (1959)
The Man Who Shot Liberty Valance (1962)
Master and Commander: The Far Side of the World (2004)
Night at the Museum: Battle of the Smithsonian (2009)
The Out-Of-Towners (1999)
The Preacher's Wife (1996)
The Replacement Killers (1998)
Sex And The City 2 (2010)
Sleeping With The Enemy (1991)
So I Married an Axe Murderer (1993)
Star Trek: Generations (1994)
Step Up Revolution (2012)
The Sum of All Fears (2002)
That Thing You Do! (1996)
Warriors of Virtue (1997)
Where the Heart Is (2000)
Young Sherlock Holmes (1985)
WeWork: Or the Making and Breaking of a $47 Billion Unicorn: Documentary Premiere (Hulu Original)
Law & Order: Organized Crime: Series Premiere (NBC)
Manifest: Season 3 Premiere (NBC)
The Moody's: Season 2 Finale (Fox)
Real Housewives of New York City: Complete Season 12 (Bravo)
Hysterical: Series Premiere (FX)
Our Last Crusade or the Rise of a New World: Season 1, Episodes 1-2 (DUBBED) (Funimation)
Home Economics: Series Premiere (ABC)
Everything's Gonna Be Okay: Season 2 Premiere (Freeform)
Rebel: Series Premiere (ABC)
Stars Fell on Alabama (2021)
The Day I Became a God: Season 1, Episodes 1-12 (DUBBED) (Funimation)
Paranormal Activity 4 (2012)
The Real Housewives of Beverly Hills: Complete Season 10 (Bravo)
Sasquatch: Documentary Series Premiere (Hulu Original)
Cruel Summer: Series Premiere (Freeform)
Greta Thunberg: A Year to Change the World: Documentary Premiere (PBS)
A Place of No Words (2020)
Wild Mountain Thyme (2021)
The Oscars Red Carpet Show: Special (ABC)
The 93rd Oscars: Special (ABC)
The Handmaid's Tale: Season 4 Premiere (Hulu Original)