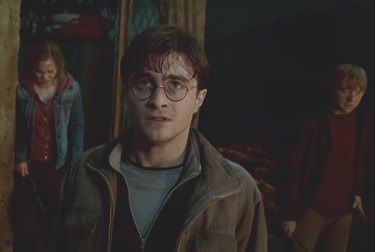 HBO Max has a new lineup of movies and series coming in June, and like usual, it's a long one. So, hope your couch is comfortable.
There are several Max Original series coming, including ​Starstruck​, a comedy about a 20-something woman in London who accidentally sleeps with a movie star. Plus, the highly anticipated film adaptation of Lin-Manuel Miranda's award-winning musical ​In the Heights​ will premiere simultaneously with a theatrical release, as will ​The Conjuring: The Devil Made Me Do It​.
But perhaps the most notable content coming next month is the entire Harry Potter film franchise. That's right, you'll finally be able to watch all eight Harry Potter movies in one place — and maybe in one sitting, depending on your dedication.
Here's what to expect in June:
Full Bloom, Max Original Season 2 Premiere
Genera+ion, Max Original Season 1, Part 2 Premiere
In Treatment, Season 4 Finale (HBO)
Starstruck, Max Original Series Premiere
A Shot In The Dark, 1964 (HBO)
The American President, 1995
Bangkok Dangerous, 2008 (HBO)
Bless The Child, 2000 (HBO)
The Bonfire of the Vanities, 1990
Curse Of The Pink Panther, 1983 (HBO)
Dirty Pretty Things, 2003 (HBO)
Disaster Movie, 2008 (Extended Version) (HBO)
Doctor Sleep, 2019 (Director's Cut) (HBO)
Drillbit Taylor, 2008 (HBO)
Eight Men Out, 1988 (HBO)
El Nombre Del Hijo (The Name Of The Son), 2019 (HBO)
El Remedio (The Prescription), 2019 (HBO)
Feast Of Love, 2007 (HBO)
Harry Potter and the Sorcerer's Stone, 2001
Harry Potter and the Chamber of Secrets, 2002
Harry Potter and the Prisoner of Azkaban, 2004
Harry Potter and the Goblet of Fire, 2005
Harry Potter and the Order of the Phoenix, 2007
Harry Potter and the Half-Blood Prince, 2009
Harry Potter and the Deathly Hallows – Part 1, 2010
Harry Potter and the Deathly Hallows – Part 2, 2011
The Hitchhiker's Guide To The Galaxy, 2005 (HBO)
How To Be Single, 2016 (HBO)
Humboldt County, 2008 (HBO)
Kajillionaire, 2020 (HBO)
Leapfrog: Math Adventure to the Moon, 2010
Leapfrog: Numbers Ahoy, 2011
Leapfrog: The Letter Factory, 2003
The Manhattan Project, 1986 (HBO)
Matchstick Men, 2003 (HBO)
National Lampoon's Christmas Vacation, 1989
National Lampoon's Dorm Daze 2: College @ Sea, 2013 (Extended Version) (HBO)
National Lampoon's Vacation, 1983
Orange County, 2002 (HBO)
Other People's Money, 1991 (HBO)
The Pink Panther, 1964 (HBO)
The Pink Panther, 2006 (HBO)
The Pink Panther 2, 2009 (HBO)
The Pink Panther Strikes Again, 1976 (HBO)
Presumed Innocent, 1990 (HBO)
Return Of The Pink Panther, 1975 (HBO)
Revenge Of The Pink Panther, 1978 (HBO)
Robin Hood: Prince of Thieves, 1991
Son Of The Pink Panther, 1993 (HBO)
Take Me Home Tonight, 2011 (HBO)
This Is 40, 2012 (Extended Version) (HBO)
Three Days Of The Condor, 1975 (HBO)
Tim Burton's Corpse Bride, 2005
Trail Of The Pink Panther, 1982 (HBO)
To Your Eternity (Dubbed) (Crunchyroll Collection)
The Fungies!, Max Original Season 2A Premiere
Juan Luis Guerra 4.40: Entre Mar Y Palmeras (HBO)
The Conjuring: The Devil Made Me Do It, Warner Bros. Film Premiere, 2021
El Ultimo Balsero (Aka The Last Rafter), 2020 (HBO)
F9: The Fast Saga: HBO First Look, (HBO)
Hacks, Max Original Season 1 Finale
Legendary, Max Original Season 2 Finale
Betty, Season 2 Premiere (HBO)
In the Heights, Warner Bros. Film Premiere, 2021
The 40-Year-Old Virgin, 2005 (HBO)
Revolution Rent, Documentary Premiere (HBO)
Summer Camp Island, Max Original Season 4 Premiere
The Little Things, 2021 (HBO)
Real Sports with Bryant Gumbel (HBO)
LFG, Max Original Documentary Premiere
Explota Explota (Aka My Heart Goes Boom!), 2020 (HBO)
PAUSE with Sam Jay, Season 1 Finale (HBO)
The Legend of the Underground, Documentary Premiere (HBO)