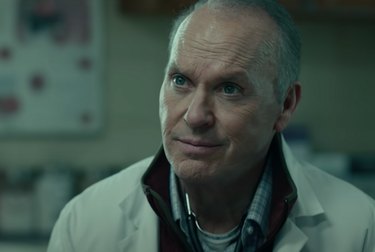 Hulu has announced every new title coming to the streaming platform in October, and one thing's for sure — you're going to have plenty to watch.
Movie nights are going to get a lot more exciting with a slew of films you probably haven't seen in a while, including ​Air Force One​, ​Escape from Alcatraz​, ​Happy Feet​, ​Madhouse​, ​My Best Friend's Wedding​, ​Crimson Tide​, ​Sweet Home Alabama​, and all the ​Hunger Game​ films.
In addition to movies, Hulu is also bringing on several originals, including ​Dopesick​, ​Baker's Dozen​, and ​The Next Thing You Eat​. There will also be a bunch of season premieres happening next month, including ​Saturday Night Live​, ​Shark Tank, Grey's Anatomy, Big Sky​, and ​The Bachelorette.​
Take a look at the full lineup below.
Big Sky: Season 2 Premiere (ABC)
Cake: Season 5 Premiere (FXX)
Grey's Anatomy: Season 18 Premiere (ABC)
Station 19: Season 5 Premiere (ABC)
The Bachelorette: Complete Season 13 (ABC)
A.I. Artificial Intelligence (2001)
Blippi's Spooky Spells Halloween (2021)
Diary of a Wimpy Kid: Rodrick Rules (2011)
Double, Double, Toil and Trouble (1993)
Escape from Alcatraz (1979)
Exorcist: The Beginning (2004)
The Extreme Adventures of Super Dave (2000)
From Russia with Love (1964)
The Hunger Games: Catching Fire (2013)
The Hunger Games: Mockingjay Part 1 (2014)
The Hunger Games: Mockingjay Part 2 (2015)
Hunt for the Skinwalker (2018)
My Best Friend's Wedding (1997)
The Perfect Holiday (2007)
Queen of the Damned (2002)
Racing with the Moon (1984)
Remo Williams: The Adventure Begins (1985)
Resident Evil: Retribution (2012)
Sleeping with the Enemy (1991)
Sleepless In Seattle (1993)
Species: The Awakening (2007)
The Spy Who Loved Me (1977)
Star Trek: The Motion Picture (1979)
Star Trek II: The Wrath of Khan (1982)
Star Trek III: The Search for Spock (1984)
Star Trek IV: The Voyage Home (1986)
Star Trek V: The Final Frontier (1989)
Star Trek VI: The Undiscovered Country (1991)
Star Trek: First Contact (1996)
Star Trek: Generations (1994)
Star Trek: Insurrection (1998)
Star Trek: Nemesis (2002)
Sweet Home Alabama (2002)
The Taking of Pelham 1 2 3 (2009)
Victor Frankenstein (2015)
When A Man Loves A Woman (1994)
Wolves at the Door (2016)
Saturday Night Live: Season 47 Premiere (NBC)
The Rocky Horror Picture Show (2016)
America's Funniest Home Videos: Season 32 Premiere (ABC)
Baker's Dozen: Complete Season 1 — Hulu Original
Jacinta (2021) — Hulu Original
Cannabis Evolution (2019)
Shark Tank: Season 13 Premiere (ABC)
G.I. Joe: Retaliation (2013)
Madonna and the Breakfast Club (2019)
Champaign, ILL: Complete Season 1 (Sony)
The Loneliest Whale (2021)
Dopesick: Series Premiere — Hulu Original
Real Housewives of Orange County: Complete Season 15 (Bravo)
America's Book of Secrets: Complete Season 2 (History)
Beyond Oak Island: Complete Season 1 (History)
Beyond Scared Straight: Complete Seasons 4, 5, 6 (A&E)
Hoarders: Complete Season 3 (A&E)
Little Women: Atlanta: Complete Seasons 1, 2 (Lifetime)
Married at First Sight: Couples Cam: Complete Season 10 (Lifetime)
Marrying Millions: Complete Season 2 (Lifetime)
Nightwatch: Complete Season 1 (A&E)
Seven Year Switch: Complete Season 3 (Lifetime)
Swamp People: Complete Seasons 1, 2 (History)
A Murder to Remember (2020)
Miss India America (2015)
Home Sweet Home: Series Premiere (NBC)
The Bachelorette: Season 18 Premiere (ABC)
Queens: Series Premiere (ABC)
The Next Thing You Eat: Complete Season 1 — Hulu Original
The Evil Next Door (2021)
Catfish: The TV Show: Complete Season 8D (MTV)