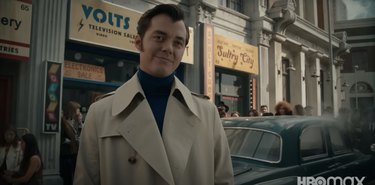 HBO and HBO Max never fail to deliver great content each month. Whether it's a long list of older favorite movies, new blockbuster releases, or original series, there's always something good to watch. October is no exception.
The much-anticipated Emmy-winning series "White Lotus" will return for its second season at the end of the month, and you'll also be able to catch new seasons of "Wahl Street," "Avenue 5," "Pennyworth: The Origin of Batman's Butler," "Batwheels," "Folklore," and the season 1 finale of "House of the Dragon."
Since October is spooky season, there will be plenty of creepy content to watch. Take a look at the full list of new shows and movies coming next month below.
Along Came A Spider, 2001 (HBO)
Bad News Bears, 2005 (HBO)
Before I Fall, 2017 (HBO)
Before Mickey Mouse: A History of American Animation
Black Nativity, 2013 (Director's Cut) (HBO)
Butch Cassidy And The Sundance Kid, 1969
Call Me By Your Name, 2017
Century of Animation Showcase: 1922, 2022
Charlie St. Cloud, 2010 (HBO)
Christmas in Connecticut, 1945
Dude Where's My Car?, 2000 (HBO)
Eyimofe (This Is My Desire), 2020
Federico Fellini's Intervista, 1987
Hot Summer Nights, 2017 (HBO)
I'm Gonna Git You Sucka, 1988 (HBO)
Max Steiner: Maestro of Movie Music, 2019
Meet the Spartans, 2008 (Extended Version) (HBO)
My Best Friend's Girl, 2008 (Extended Version) (HBO)
No Place on Earth, 2012 (HBO)
Nothing But Trouble,1991 (HBO)
Popstar: Never Stop Never Stopping, 2016 (HBO)
Promised Land, 2012 (HBO)
Scooby-Doo! The Sword and the Scoob!
Silent Hill: Revelation 3D, 2012 (HBO)
Terms of Endearment, 1983 (HBO)
The Adventures of Pinocchio, 1996
The American President, 1995
The Bad News Bears, 1976 (HBO)
The Bad News Bears Go To Japan, 1978 (HBO)
The Bad News Bears In Breaking Training, 1977 (HBO)
The Bridge on the River Kwai, 1957
The Haunting In Connecticut 2: Ghosts of Georgia, 2013
The Perfect Host, 2010 (HBO)
The Two Faces of January, 2014
Tim and Eric's Billion Dollar Movie, 2012 (HBO)
Whose Line is It Anyway?, Season 9
Yvonne Orji: A Whole Me, Special Premiere (HBO)
101 Places to Party Before You Die, Season 1
Folklore, Max Original Seasons 2 Premiere
Pennyworth: The Origin of Batman's Butler, Max Original Season 3 Premiere
Wahl Street, Max Original Season 2 Premiere
Habla Loud, Documentary Premiere (HBO)
Straight Out of Nowhere: Scooby-Doo Meets Courage the Cowardly Dog, 2021
Avenue 5, Season 2 Premiere (HBO)
Oh Hell, Max Original Season 1 Premiere
38 at the Garden, Documentary Premiere (HBO)
Blippi Wonders, Season 2A
Trick or Treat Scooby-Doo!, 2022
The Vow, Part Two Documentary Series Premiere (HBO)
Batwheels, Season 1B Premiere
By Design: The Joe Caroff Story
Mama's Boy, Documentary Premiere (HBO)
Meet the Batwheels, Season 1A
Year One: A Political Odyssey, Documentary Premiere (HBO)
Legacy, Max Original Season 1 Premiere
The Fastest Woman on Earth, 2022
Restoration Road with Clint Harp Season 3
Teen Titans Go! Season 7D
Vale Dos Esquecidos, Max Original Season 1 Premiere
La Pitchoune: Cooking in France Season 1
Green Lantern: Beware My Power, 2022
A Tree of Life: The Pittsburgh Synagogue Shooting, Documentary Premiere (HBO)
Garcia, Max Original Season 1 Premiere
The Lost Kitchen, Season 3
The White Lotus, Season 2 Premiere (HBO)