The D-Link DI-524 is a wireless router designed for home and small office users to share a single Internet connection with several computers. Additionally, the DI-524 acts as a firewall for your home or small office network. Once the wireless router is connected to your DSL or cable modem, it needs to be configured before allowing other computers to connect and access the Internet. The D-Link Setup Wizard allows users to easily configure their DI-524 router for use.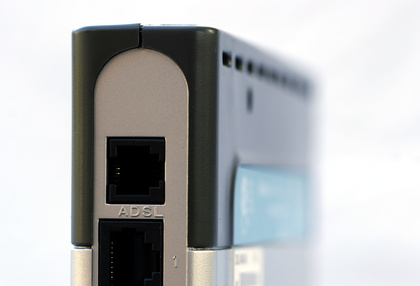 Step
Make sure your computer is connected to the router using the supplied Ethernet cable. The cable should be plugged into the Ethernet port of your computer and one of the LAN ports on the router.
Step
Open a Web browser from your computer and type "http://192.168.0.1" into the address bar of the browser. Enter "admin" in the User name field and leave the Password field blank at the log-on screen. Click "OK" to continue.
Step
Click "Run Wizard" at the Home screen of the Web interface to begin the configuration process. Click "Next" at the first Setup Wizard page to begin setup.
Step
Change the default password for the log-on screen by entering a new password in the Password and Verify Password fields. Click "Next" to save the changes and proceed.
Step
Select the appropriate time zone from the Time Zone drop-down menu and click "Next" to continue.
Step
Allow the router to automatically detect the type of Internet connection you are using. Once the process is complete, you will be brought to the appropriate setup page for your connection type. If the process does not work, you will be asked to choose your connection type. Choose "Dynamic IP Address" if your connection is through a cable modem, or "PPPoE" if it is through a DSL modem. Click "Next" to continue.
Step
Enter the requested information at the next setup screen depending on your type of connection. For cable modem users, click "Clone MAC address" to copy the modem's MAC address to the router. For DSL modem users, enter the password given to you by your Internet provider to log on for accessing the Internet. Click "Next" to proceed with the Setup Wizard.
Step
Enter a name for your network in the SSID field if desired at the Wireless LAN Configuration page. This is the name that will appear when computers are attempting to connect to your wireless network. Change the broadcast channel for your network if desired. Click "Next" to continue.
Step
Click the radio button next to "Enable" to enable security for your wireless network. Choose the type of WEP encryption desired and enter a Key in the text box. This Key is needed for computers to access your network wirelessly. Click "Next" to save the changes and to continue.
Step
Click "Restart" at the Setup Completed page to restart your router to allow all changes to take affect. Quit the Setup Wizard by clicking "Close."