How to Connect a Mac Book Pro to an LCD Projector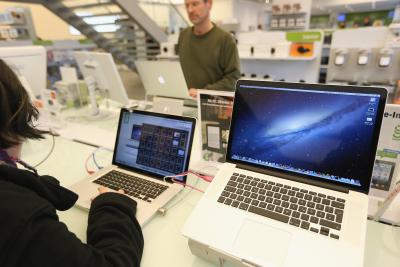 All Macintosh computers including laptops have the ability to connect to a variety of external displays. Whether the display is a standard monitor, a large screen or a projector, the Mac will connect with little setup required. LCD projectors have become popular for displaying presentations and slide shows from software such as Microsoft PowerPoint or Apple's Keynote. Connecting a projector to a Mac is relatively straightforward provided you have the necessary video adapters.
Things You'll Need
MacBook laptop computer
LCD projector
Video adapter (see Tips)
Connecting the Projector
Step 1
Power off your MacBook Pro.
Step 2
Plug the video adapter into your MacBook Pro's DVI display port located between the Ethernet port and the FireWire port on the left side of the computer.
Step 3
Power on the LCD projector.
Step 4
Plug your projector's video cable into the video adapter connected to your MacBook Pro.
Step 5
Power on your MacBook Pro.
Enabling the Display
Step 1
Open System Preferences and select Displays.
Step 2
Click the "detect displays" button if the projector is not showing an image of your desktop.
Step 3
Adjust the display resolution of the projector, if desired, by selecting the appropriate resolution from the resolutions menu displayed on the projector screen.
Tips & Warnings
Determine what type of video connector your projector uses, the most common being a VGA connector. Since the MacBook Pro has a DVI video connector, you must purchase a DVI to VGA adapter (see Resources). If your projector uses another type of connector, you must purchase the appropriate adapter from Apple.
Consult the projector's documentation to determine if there is a procedure to activate the projector's display if you don't see an image on the projector after connecting and powering on the projector and the MacBook.
Make sure to remove the projector's lens cover.