How to Convert Coaxial Digital Audio Cable to RCA Jacks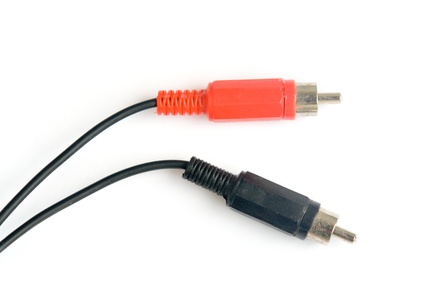 A coaxial cable is usually used to connect televisions and other audio/video devices. Its single cable provides both the audio and video signal. However, using an adapter, you can convert either just the audio or just the video to a different connection format, such as RCA. Audio RCA cables are made up of two cables--one red, the other white--and they connect into devices such as audio receivers.
Things You'll Need
Coaxial cable
Coaxial-to-RCA converter
RCA audio cables
Step 1
Connect the coaxial cable into the "Out" port of the device you want to take the audio from. Ensure the cable is properly attached to the port, or you may experience a loss of audio quality.
Step 2
Plug the other end of the coaxial cable into the coaxial cable port on the adapter. The opposite end of the adapter has both audio and video RCA ports. In this case, however, you only need to use the audio out ports.
Step 3
Connect the audio RCA cables into the red and white audio ports on the opposite end of the converter.
Step 4
Run the cables to the device you want to connect the audio to and plug them into the "Audio In" ports.
References & Resources