A flatbed scanner is a terrific tool when it comes to manipulating and preserving old photographs and negatives. Photographers have been carefully storing negatives in archival quality sleeves and envelopes for years, but it's not a foolproof security method. Excessive heat or humidity can cause discoloration or flocking, according to Black and White Lab, an online photography resource. And an accidental house fire, flooding and theft can mean the negatives are lost forever. Fortunately, scanning the negatives with a flatbed scanner permits digital archiving and backup in case the originals become unusable. Digital copies of negatives also make for easier sharing via personal web pages or email.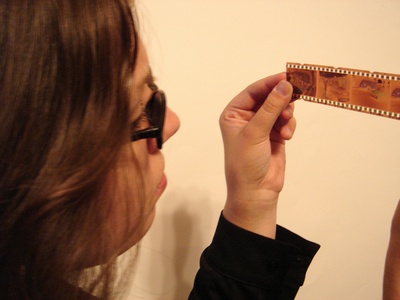 Step
Clean the glass of the flatbed scanner carefully, removing any smudges or fingerprints from previous scans with a lint-free cloth. Such marks will scan along with the negatives, creating a muddy image. If working in a long, continuous scanning session, take a break every 50 scans or so to re-clean the flatbed scanner's surface, according to Scan Café.
Step
Clean the negatives, if necessary. Avoid touching the negatives with bare fingers or harsh cleaning supplies. Instead, use a soft cloth to gently wipe away any smudges or fingerprints, or use dry compressed air.
Step
Place the negatives on the flatbed scanner's surface, positioning it according to the scanner's printed directions. For example, some flatbed scanners may direct users to place items in the upper-left-hand corner of the scanning screen.
Step
Complete the scan according to the flatbed scanner's directions and any prompts from a personal computer's scanning or photo manipulation software. Most scans should be completed at a resolution setting of 3,000 dpi, according to Scan Café. Once the scan is complete, carefully review the image. If the image appears to be blurred or otherwise unsatisfactory, complete the scan again.
Step
Repair the image using a personal computer's scanning or photo manipulation software to remove any discoloration, scratches, fading or other flaws.
Step
Save the repaired negatives. Scan Café recommends saving files in a JPG format, although professionals may choose to save files in much-larger TIFF formats.