How to Send Free SMS Text Messages Through My Gmail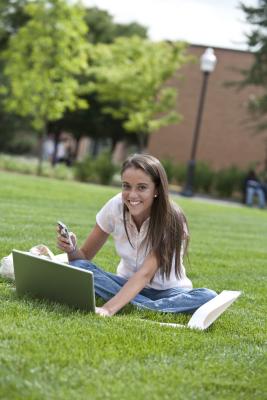 Google's Gmail service provides email, chat and even SMS text messaging. While it is free for you to send SMS messages to your contacts' mobile phones, they are subject to the usual text-messaging charges from their service providers. Google places a limit of 50 SMS messages on your account. However, you earn the ability to send five more SMS messages each time someone replies to you.
Things You'll Need
a GMAIL account (with enabled SMS through Google Lab)
Step 1
Sign in to your Gmail account.
Step 2
Click the gear icon on the top right corner of the screen, then click "Labs."
Step 3
Click on the "Enable" button next to "Text Messaging (SMS) in Chat" and click "Save Changes."
Step 4
Type the name of the person you want to text message in the "Chat" field.
Step 5
Place the mouse cursor over your contact's name, then click "Send SMS" from the list of options.
Step 6
Enter the contact's mobile number and click "Save."
Step 7
Type your message in the chat window and press the "Enter" key to send it as an SMS message.
Tips & Warnings
You may want to clarify in your first text who you are, so the other person doesn't get confused.
SMS texts will be free to receive and send for you through GMAIL, but the other user will incur charges.
References & Resources