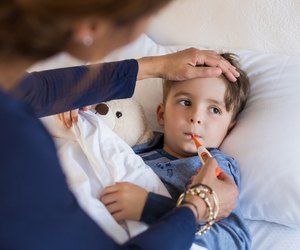 credit: Ridofranz/iStock/GettyImages
When your kids are sick, the only thing that matters is helping them feel better. Whether that means gently placing a cold compress on their foreheads, giving them medicine, making them chicken noodle soup, rubbing their backs or letting them watch cartoons all day — it all helps.
There's one important thing that you need to have handy in sick situations: a reliable thermometer. Digital thermometers tend to get the job done a lot quicker and more efficiently than the glass mercury (free) thermometers you probably grew up using.
The last thing you want to be doing when your child has a high fever is scrambling to find a thermometer that can accurately test the temperature. So we've done some of the legwork for you. Here are the best digital thermometers for your kids.
Generation Guard Clinical
A no-frills thermometer that gets the job done. The Generation Guard Clinical Digital Thermometer is probably the digital thermometer you're used to. There's nothing fancy about it, but sometimes the fancy stuff just gets in the way.
This basic digital thermometer reads the temperature within 15 seconds and can be used orally, under the arm pit or rectally. Available at most drug stores or on Amazon for $12.90.
Kinsa Smart Stick
The Kinsa Smart Stick Digital Thermometer pairs with your iOS or Android smartphone to give you a quick, accurate reading. The thermometer itself is pretty small, since your phone is doing most of the work.
It reads the temperature in 10 seconds, plugs into your phone's headphone jack and comes with a free app. Available on Amazon for $14.60.
Braun Thermoscan 5 IRT6020
The Braun Thermoscan 5 IRT6020 ear thermometer provides a reading almost instantly. It's good for infants and young kids who can't or won't place a thermometer under their tongues. A soft, pre-warmed tip eliminates discomfort and inconsistent readings that happen because of a cooler tip.
It comes with a light-and-beep system to make sure the thermometer is positioned correctly. Purchase at Walmart for $33.99.
Exergen Temporal Artery TAT-2000C
Another great option for infants, the Exergen Temporal Artery thermometer is non-invasive and reads the temperature when you scan your child's forehead. It gives you a fast and accurate reading almost instantly.
This one takes some practice to get the hang of it, but once you've mastered the basic technique, it's a very reliable source. Available for $26.49 on Amazon.
Vicks V934
Ah, the ol' rectal thermometer. The Vicks V934 gets the job done and actually isn't terribly uncomfortable thanks to the soft, flexible, short tip. In fact, most parents report that their kids barely notice it's there. It gives a very accurate reading within 10 seconds.
The egg shaped body ensures you'll keep a solid grip so there's no concern of losing it while taking the temperature. Available on Amazon for $8.59.