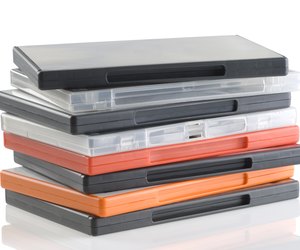 credit: HSNPhotography/iStock/GettyImages
Remember when your DVD collection was your pride and joy? It wasn't even that long ago. But now it's just sitting on a shelf or in a box somewhere collecting dust. Because why waste your time putzing around with a DVD and a DVD player when you can watch unlimited movies on Apple TV, Amazon Firestick, Netflix, etc. etc.?
Well, good news — your DVDs can be dusted off one last time and be put to good use. Vudu is a new app that can convert your DVDs and Blu-Rays into streaming digital movies.
To get started, all you need is your iOS or Android smartphone and the cases of all the DVDs you want to immortalize. Hate to be the bearer of bad news though, but unfortunately, if you are someone who tried to save space by putting all of the DVDs in a holder album, your DVDs without the cases are a lost cause. But hey — you're a good consolidator, so at least there's that.
Here's how it works
First, download the iOS or Android app. Look for a barcode on each of the DVD cases. Scan the barcode using Vudu's mobile app and your phone's camera. You'll need to pay a $2 fee per movie, but then you'll have access to watch it on your device whenever you want. You'll also get a special UltraViolet copy.
Vudu will give you the option to upgrade the DVD to an HD digital version, but that'll cost a little more at $5 per conversion.
As of now, over 8,000 movies can be converted using Vudu. Participating studios include Lionsgate, Paramount, Sony Pictures, Twentieth Century Fox, Universal and Warner Bros.
But that's not all Vudu has to offer. Download the app and you'll gain access to thousands of movies and TV shows absolutely free with limited commercials. Vudu claims to have movies and TV shows weeks before other services like Netflix and Redbox.
So dust off those DVDs and get to work. You have an entire collection of movies to re-watch forever.