The most stressful part of hosting an event often isn't the actual event—it can be finding the perfect location. Peerspace is an app that'll help you nail down a unique space, no matter what type of event you're hosting.
Peerspace is like Airbnb for event spaces. Browse through thousands of creative spaces, then book directly through the local host. Start by selecting the city and type of activity you're planning—you can choose from a long list of options like party, baby shower, wedding, film shoot, corporate event, workshop, performance, pop-up, and fitness class.

Let's say you're hosting a party. You can sort through the specific types of parties—birthday party, graduation party, happy hour, dance party, holiday party, etc.— to find the space that most fits your needs. Once you've made your selections, a list of spaces will pop up alongside a map showing their locations.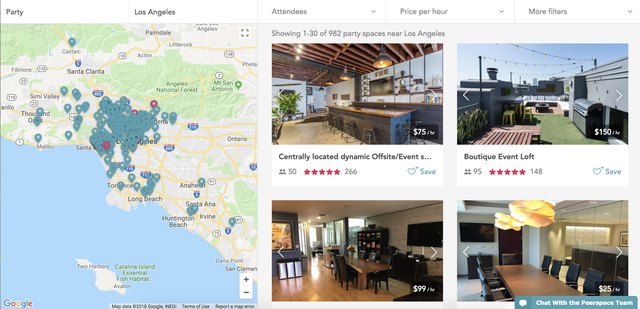 Narrow down your search by selecting the number of attendees, how much you want to pay per hour, the necessary features—grill, pool, patio, elevator, etc.—and the space type—bar, restaurant, gym, classroom, etc.
You can also become part of the Peerspace community and list your space for some extra money. Click here to get started.