Video recording capability is a standard feature of the latest versions of Apple's iPhone. The rear and front facing cameras of the smartphone enable you to record video of yourself and others. If you want to live broadcast video to the public or a group, you can download free or paid apps to help you accomplish this task. All prices listed are valid as of May 2014.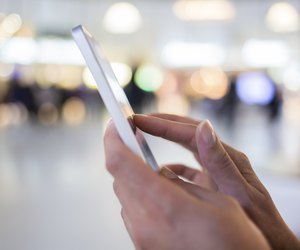 credit: LDProd/iStock/Getty Images
Paid Apps
Kinoni's EpocCam HD enables you to turn your iPhone into a wireless HD webcam via your Windows or Mac computer. You need to download the EpocCam HD app from the App Store and the corresponding free desktop application from the Kinoni website. Your computer and iPhone must be on the same wireless network. Once you pair your desktop app to your iPhone via Wi-Fi, you can move around with your iPhone recording video. EpocCam costs $5.99.
SHAPE GmbH's WebCamera and Senstic's PocketCam also work in tandem with free desktop companion programs for PCs and Macs to broadcast live video using a Wi-Fi connection. However, the video from these apps is not HD quality.
EpocCam HD and PocketCam are optimized for iPhone 5 and later devices. WebCamera also supports front cameras on iPhone 4 and iPhone 4S devices. You can also use WebCamera along with the video production apps CamTwist, Boinx TV and Camtasia. WebCamera and PocketCam cost $4.99 each.
All three paid apps can broadcast via Skype and Google Talk plus other popular instant messaging apps.
Free Apps
EpocCam is similar to Kinoni's paid app but does not offer HD streaming, is ad-supported and includes a watermark on streamed video. It works with the same desktop software as the paid app.
Senstic offers a free version of its app, PocketCam Lite. However, the free version broadcasts only monochrome video and there is no audio.
Hang With's video streaming app enables you to stream directly to others with the app on their iOS and Android devices as well as your Facebook page. You can create a friends list of other users of the app, send out alerts when you begin broadcasting and chat via texts with your friends during the live session.
Video Chat Apps
If you want to limit your broadcasting to one person, you can use the built-in FaceTime app on your iOS device. While it is free, you can only talk via your phone's camera to one person at a time.
Skype's iOS app also enables you communicate via video one-on-one or to a group. The other participants must also have Skype on their phone or computer. Group video sessions can have up to nine people.
OoVoo offers a free messaging app that enables you to make one-on-one and group video calls with others who use the service. You can talk to up to 12 people at once for free with ooVoo.
Troubleshooting Video Issues
You may experience slow playback or broken up video when using webcam apps on your phone. Your Internet connection may be the culprit if you have a slow Wi-Fi connection or if your phone operates over slow network. If you are using an app that works along with a desktop app, you may be able to enhance the playback by lowering the video resolution of your computer. Shutting down other programs during your webcam session can also help performance by decreasing the load on your computer's CPU.