You're thinking of buying a new phone -- but what should you do with your old phone? Your old phone that's probably two years old, tops. Instead of tossing it into your electronics junk drawer (we all have one) to collect dust for the next six years, here are a few ways to breathe new life into the ol' handset. Because if you can't use it, someone else almost certainly can!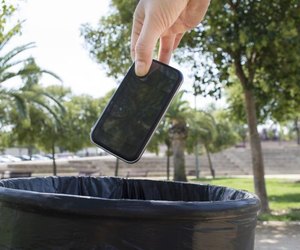 credit: Manuel Faba Ortega/iStock/Getty Images
Get Paid
If you have a newer, sexier smartphone -- such as an iPhone 6 or a Samsung Galaxy S6 -- . A flawless, 64GB Verizon iPhone 6 currently rakes in $380 from Gazelle, and can go for as much as $600 on eBay. Selling might not make sense if you have an older model (you'll get less than half as much -- $160 -- for a flawless, 64GB Verizon iPhone 5S on Gazelle), even if your phone is in excellent shape.
Here's where you can go to get money for your phone:
Gazelle pays cash for most smartphones, though you won't get much if your phone is older, broken (including a cracked screen), or completely dead (does not power on). But if you're packing a newer model with no cosmetic problems, Gazelle guarantees you'll get a decent amount of money without the hassle of selling it on your own, or worrying about getting scammed on eBay. Simply find your model, be truthful about the state it's in, and Gazelle will pay for shipping (as long as your phone is worth at least $1) and send you a check, an Amazon.com gift card, or money via PayPal.
iPhone users may be able to get a little more cash back from Apple's Reuse and Recycling Program, assuming they have an older device (the latest iPhone isn't eligible). A flawless, 64GB Verizon iPhone 5S will get you a $165 Apple gift card, which is $5 more than what you'll get on Gazelle. Apple's program is a good choice if you have an older-model iPhone, because while Gazelle won't give you any money for an iPhone 4, Apple will give you up to $20.
If you're thinking of buying a new phone, and it's a phone with a lot of buzz surrounding it, you may want to wait to see if your carrier offers any sort of trade-in incentive. While most wireless carriers' buyback programs aren't as good as places like Gazelle (AT&T's buyback program will give you $310 for a flawless, 64GB AT&T iPhone 6), carriers occasionally offer incredible trade-in incentives. Last year, for instance, both Verizon and AT&T offered a $200 credit toward the purchase of an iPhone 6 or 6 Plus with the trade-in of any older-model iPhone.
Glyde is an online marketplace that lets you sell your smartphone directly to another person. It's sort of like eBay, but it's a little less risky, since it's an electronics-only marketplace, and Glyde takes care of shipping and handling (if you sell your phone, they'll send you a shipping package). Glyde does take a pretty big commission off of each sale, but you'll get more money than if you sell it to a trade-in service like Gazelle. You can set your own price on Glyde, but the market price for a flawless, 64GB Verizon iPhone 6 is around $580. After Glyde's commission, you'll get $490, which is still $110 more than what you'd make on Gazelle.
Selling your phone on eBay will likely net you the most cash, but it's also riskier than the other options we've listed. A flawless, 64GB Verizion iPhone 6 goes for around $600 on eBay, minus eBay's commission (approximately 10 percent). But if you sell your phone on eBay, you risk getting scammed -- and eBay often sides with the buyer if there's an issue with the purchase, and you're responsible for providing your own packing materials and a trackable shipping method.
Repurpose It
Your old smartphone might not be worth much -- even a small crack in the screen can severely hurt its value -- but that doesn't mean its worthless. You may not need it as a smartphone anymore, but you can repurpose it as a dedicated media device, a portable GPS system, or a handheld gaming console.
Here are some neat ways to keep an old phone in your life:
Use an app like AtHome Camera, Presence, or Manything to turn your old phone into a home security camera or a baby monitor. These apps let you stream live video to another smartphone, allowing you to keep tabs on your house (or another room) from the phone you carry with you.
If you don't need a GPS device, you can also turn your old phone into a neat head-up display. Place your phone on the car dashboard near the window, and download an app like Navier HUD Navigation Free and aSmart HUD. These apps reflect off the windshield to show information like current speed, trip time, and the weather forecast (for obvious reasons, this works best when you're driving at night).
Remember way back when our phones were separate from our MP3 players? Instead of wasting the battery life on your real phone, use your old smartphone as an MP3 player, a gaming console, an e-reader, an alarm clock, or a dedicated video-streaming hub for Netflix and YouTube.
Give It Away
If you don't want to go through the hassle of selling your old smartphone, or if your smartphone is somehow un-sell-able (e.g. it's not working and/or it's too old to be worth anything), you can donate it to a good cause. The good news is that if you donate your smartphone to a qualifying nonprofit organization, you may be able to write off the full value of the smartphone come tax-time, assuming you itemize your deductions.
Here are a few places that will gladly accept your old phone:
Cell Phones For Soldiers is a nonprofit organization that accepts gently-used phones via mail (you pay postage) or in-person drop-off. If your phone is newer, Cell Phones For Soldiers will donate it to an active-duty military member or a veteran transitioning into post-combat life. If your phone is older, Cell Phones For Soldiers will recycle it and use the money received from recycling it to provide international calling cards for members of the military who are deployed overseas.
Rainforest Connection is an organization (non-profit pending) that accepts working smartphones via mail (you pay postage). Rainforest Connection takes your old phone, erases it, retrofits it with solar panels, and places it in the rainforest as a "tireless forest guardian." The phone is then used as a listening device that helps alert local authorities to the sounds of illegal logging.
Hope Phones is a nonprofit organization that accepts phones (working or not) via mail (pre-paid shipping label provided). Hope Phones refurbishes and recycles old phones and uses the proceeds to purchase new technology for health workers around the world (through its parent organization, Medic Mobile).
American Cell Phone Drive is a service that helps you find a local charity to donate your smartphone. Just plug in your zip code and you'll see a list of local organizations that will accept your phone. If you can't find a collection box near you (or if you don't see a charity you want to support), you can send your phone in via mail (pre-paid shipping label provided) to American Cell Phone Drive.
If you can't find a nonprofit to donate your phone to, you can also "donate" it to a friend or a family member. You won't get a tax write-off, but you may save your not-so-tech-savvy mother from having to spend $200 on a brand new smartphone.