Viber is a text and voice-over-IP platform designed for use on computers and mobile devices. Viber uses Wi-Fi and cellular data networks to send texts and make calls. Provided the people you're trying to contact also have Viber, you can call them for free from anywhere in the world.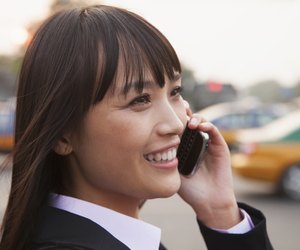 credit: XiXinXing/XiXinXing/Getty Images
Step
Download and install the free Viber app on your iPhone. I've you've never installed an app directly on an iOS 8.1 device before, open the App Store on your iPhone, search or browse for Viber and then tap the "Free" button on the app's Details page to install it. Viber is found in the Social Networking category in the App Store.
Step
Join a Wi-Fi network. If you've never done this before, open the Settings app, tap "Wi-Fi" and toggle the "Wi-Fi" switch to the On position. Tap the name of the Wi-Fi network you want to join and enter its password, if prompted.
Step
Open the Viber app on your iPhone.
Step
Configure your account or log in if you already have a Viber account. When you create a new account, Viber prompts you to select your home country and enter your phone number. It also prompts you to import your contacts. When you import contacts, Viber automatically notes which contacts have Viber and are therefore available to receive free international calls.
Step
Open the Contacts list and select the person you want to call. Only those contacts identified with Viber badges are available to receive free calls.
Step
Tap the "Free Call" button to call the selected contact.