The Messages section of iOS's Notification Center Settings menu has the settings to manage your iPhone's Show Preview feature for text messages. The feature is enabled by default and automatically displays the content of text messages on your iPhone's screen as they arrive. Although it is a convenient way to view your iMessages and text messages, the feature is a potential privacy risk because anyone within reading distance of your iPhone can also see your messages. Disabling the Show Preview feature hides the content of a text message but still displays the name of the sender.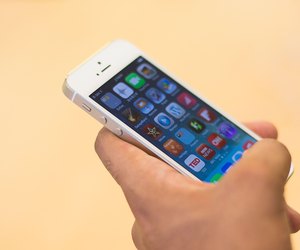 credit: Lam Yik Fei/Getty Images News/Getty Images
Step
Select the "Settings" icon on the Home screen of your iPhone.
Step
Tap "Notification Center" from the Settings menu.
Step
Scroll down the screen and tap "Messages."
Step
Slide the "Show Preview" switch to the "Off" position.