The Apple iPhone is a popular cell phone with an innovative touch-screen technology. Apple continues to improve this phone and release subsequent versions of the phone. Therefore, you may have been given or purchased an old iPhone. If you have someone's old iPhone, you will have to activate the phone under your name.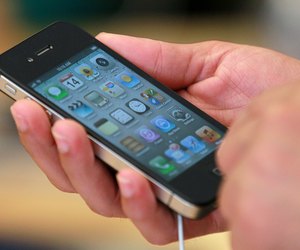 credit: Justin Sullivan/Getty Images News/Getty Images
Step
Go to the AT&T store and obtain a new SIM card. You will not be able to use a regular cell phone SIM card because the iPhone uses a specific SIM card.
Step
Insert your new SIM card. Unravel a paper clip and use the pointy end to release the SIM card holder. This bay is on the top of the iPhone, next to the headphone jack. Remove the old SIM card if it is still inside and place the new SIM card in the holder. Push the holder back into the iPhone.
Step
Connect your iPhone to your computer using the iPhone USB cable. This should automatically launch iTunes. If it does not, open iTunes.
Step
Click "Continue" when the activation screen appears.
Step
Select your AT&T status. You will need to choose between an existing customer or a new customer. Click "Continue."
Step
Transfer your mobile number if you are transferring your service to AT&T from another carrier. Enter the phone number, account number, zip code, and password from your existing phone.
Step
Choose an AT&T monthly plan and then click "Continue."
Step
Confirm your personal and billing information and click "Continue."
Step
Agree to the terms and conditions and click "Continue." You will be presented with a summary of your choices. Click "Submit" to activate the phone.