Select the correct screen format to properly view your video image. High-definition televisions offer different device inputs, including computer devices. Depending on the format that is being transmitted from the connected device, the aspect ratio will need to be adjusted. The most common aspect ratio for HDTVs is 16:9, but some devices will provide a 4:3 aspect ratio. Depending on the manufacturer, such as Mitsubishi, adjusting the aspect ratio is a simple process.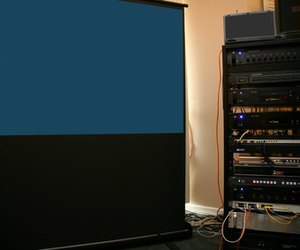 Step
Press the "Format" button on the remote control to cycle between the aspect ratios. Some HDTVs allow the user to easily adjust the aspect ratio using the remote. Change the format until you find the right setting for your connected device. Most televisions will store the setting used for the device for future usage.
Step
Access the aspect ratio using the menu system. Press "Menu" or "Setup" on the remote and use the directional arrows to scroll to the picture option or icon and select it using "Enter" or "OK." Scroll down to the setting for the aspect ratio using the direction buttons.
Step
Select the aspect ratio option or icon. The aspect ratio may be called the screen format, video format, picture size or picture format depending on the make and model of the HDTV. Select the right format for your device and save the setting using the "Menu" or "OK" button.
Step
Exit the Menu system by pressing the "Menu" or "Exit" button and choose the device input. Verify the aspect ratio correctly shows the picture for your device. Repeat Step 2 and Step 3 if the adjustments need to be made.