By default, the iPhone's home button in iOS 7 returns you to your home screen, displays the recently opened apps and displays the Voice Control feature. You can customize your home button settings to perform additional tasks, such as launching Siri, displaying accessibility options, unlocking your iPhone and making iTunes or App Store purchases.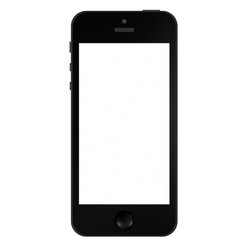 credit: OBalazs/iStock/Getty Images
Activating Siri
If you declined to activate Siri when you first set up your iPhone, holding the "Home" button brings up the default Voice Control screen, which displays a list of voice commands you can use to control music playback and phone calls. However, you can change your iPhone settings so that you can instead summon Siri by holding down the "Home" button. To do so, open the "Settings" menu and select "General." Choose "Siri" and switch the slider for this feature to the on position. Tap "Enable Siri" to confirm the change.
Accessibility Options
You can customize the home button to trigger accessibility features shortcuts when you press the home button three times. Explore these options by opening the "Settings" menu, tapping "General" and choosing "Accessibility." Select "Accessibility Shortcut" and check off one or more of the following features: VoiceOver, an audio guide for users with vision impairments; Invert Colors; Zoom; Switch Control, which enables third-party Bluetooth switches for users with physical disabilities; and AssistiveTouch, a feature for users to create custom gestures for device control. Check off the desired features, and their corresponding menu shortcuts appear when you press the Home button three times.
Touch ID
IPhone 5S models have a fingerprint sensor built into the home button. You can use this feature to unlock your phone and make purchases with your fingerprint, instead of a password. Enable Touch ID by opening the "Settings" menu and selecting "Touch ID & Passcode." Follow the on-screen prompts to press your finger against the "Home" button until your fingerprint is recorded. If you want to use the recorded fingerprint to make purchases, return to the "Touch ID & Password" menu and switch on "iTunes & App Store."
Guided Access
With Guided Access, you temporarily lock your iPhone into a single app. Guided Access can keep you on task by preventing distractions caused by other iPhone apps. Guided Access also prevents users fro viewing your personal data. After you enable Guided Access, pressing the "Home" button three times activates it. Use this feature by opening the "Settings" menu, choosing "General," "Accessibility" and then "Guided Access." Switch the feature on and set a passcode so that only you can disable Guided Access. Switch on "Accessibility Shortcut" if you need to use other accessibility features during Guided Access.