The iPhone supports a number of international languages. If you accidentally change your iPhone's language setting to Russian–and you don't know how to read Russian–you may have a difficult time changing the language back to English because all of the icon labels will be in Russian. You can, however, reset the language back to English by using just the icons.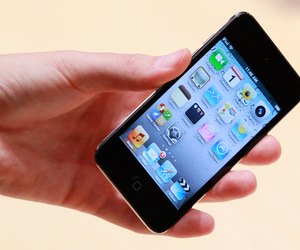 credit: Justin Sullivan/Getty Images News/Getty Images
Step
Turn on your iPhone by holding down the power button until the Apple logo appears.
Step
Tap the gray icon with an image of a gear on it located on your iPhone's home screen. This opens the "Settings" menu.
Step
Tap the sixth tab from the top, also marked a gear image, to open "General" settings.
Step
Scroll to the bottom of the page. Click the tab that is the second from the bottom to open the "International" settings menu.
Step
Tap the first tab to open the "Language" settings menu. Select "English" from the list of languages. It should be at the top of the list.
Step
Tap the blue button at the top right-hand corner of the screen. The language is now set back to English.