You might have bought your HTC Touch in an English-speaking country, but that doesn't necessarily mean you'll want to use its functions in English -- especially if that's not your native language. The HTC Touch, a Windows phone sold around 2008 and 2009, require a few simple steps to alter the language setting. Whether you have the Touch Diamond or the Touch by HTC model, the process is the same.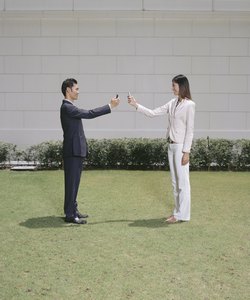 credit: Image Source Pink/Image Source/Getty Images
Access Regional Settings
For an HTC Touch Diamond or a Touch by HTC device, you'll start by tapping the Start menu, and then tapping "Settings." Following that, tap on the "System" tab. From there tap on "Regional Settings," and then select "Language." In the Language section, you'll see a list of some of the most common languages, including English, French, Danish and other European languages. Tap on the one you want to use, and then tap "Ok." While this will change the way data is displayed on your device, keep in mind that it doesn't change the operating system language, so whatever language your phone's operating system started with, it will remain as such.