The Google Maps app on the iPhone provides clear instructions that enable you to estimate travel time and get route instructions whether you walk, drive or take the bus. Google Maps stores information about your past entries to make it easier to pull up past locations you visited. For greater privacy, you can remove previous entries and clear your history of previously visited areas. Additionally, for even greater privacy, you can prevent Google Maps from remembering your history.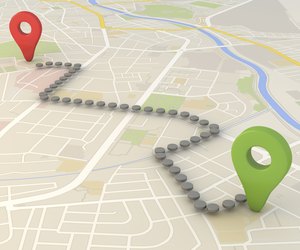 credit: hkeita/iStock/Getty Images
Step
Tap the "Google Maps" icon to launch the application and select the side menu icon that appears as a stack of three horizontal bars.
Step
Tap "Settings" and select the "Maps History" option. Tap the "X" next to any location you want to delete. Select "Delete" to confirm.
Step
Select the back arrow to return to the Settings screen and choose "Location History." Tap "Location History" again. Choose the "Do Not Store" option to prevent Google Maps from storing your history.
Step
Tap the back arrow twice to return to the main Settings page. Select the "About, Terms & Privacy" option. Select "Terms & Privacy" and choose "Clear Application Data" to remove all your stored data including search suggestions, direction searches, map tiles and information on your activity page.