While iOS offers excellent multitasking support, you still may want to force-close an app in some situations. Keeping multiple apps open in the background uses a minimal amount of system resources, although some programs continue to refresh while suspended. When you double-tap the Home button, a menu displays your paused and running apps, and you can scroll through the menu by sliding it to the left or right. To conserve power, suspended apps only refresh when you regularly use them or when your iPhone is connected to a power source or Wi-Fi network.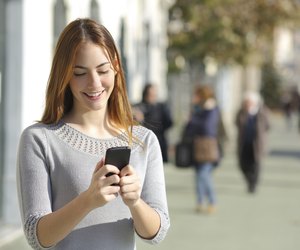 credit: AntonioGuillem/iStock/Getty Images
Step
Double-tap the "Home" button to display a menu of your active and suspended apps. In the menu, preview windows display a snapshot of the app's suspended state. For example, Web browsers display the currently open page, and games display the currently paused frame.
Step
Locate the app you want to close by its preview window or application icon. Depending on the number of apps you have open, you may need to scroll through the menu to find the one to close.
Step
Slide the application's preview window up to remove it from the menu. This action automatically forces the app to close. Return to your previously open app by selecting it from the menu or return to the Home screen by tapping its preview window.