Having access to email anywhere may be important in your line of work or your personal life. Yahoo is an email provider that makes it convenient for you to access your email beyond your computer. If you're a Yahoo user, it is easy for you to access your mail on your phone so you can check your inbox, send emails and reply to messages on the go. Configuring your Yahoo email on your mobile phone is easy.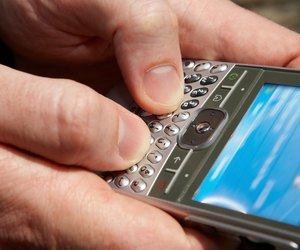 credit: Jupiterimages/Photos.com/Getty Images
Step
Go to Yahoo Mail for mobile at mobile.yahoo.com/mail. Yahoo has a microsite that lists features of its mobile mail. Select the type of phone you have--standard, Blackberry or iPhone. You will learn about the advantages of setting up your mobile phone for Yahoo mail.
Step
Enter your phone number on the website. By doing this, you will receive a text message with a link to access your email on your phone. You may also type "m.yahoo.com/mail" in your browser to set up your email on your phone. To see how your email will look on your mobile, click on the demo phone at the center left corner of the website.
Step
Type in your Yahoo ID and password. If you don't have a Yahoo ID, create one at mail.yahoo.com. Your Yahoo ID lets you access your mail features just as you would on your computer. Make sure you have an active account. If you do not, go to mail.yahoo.com to activate your account.
Step
Access your email by going to your inbox. The inbox link at the top center of the screen should reflect in parentheses the number of unread emails you have. Your messages will load on your screen, and it will look the same and have the same format as accessing your mail on your computer.
Step
Send, receive and reply to messages using the same steps you are familiar with when accessing your mail from your computer. To send mail, click on "Compose" on the upper right corner of your mobile device. To receive mail, click on the "Check" button that allows you to reload your screen and get mail. To reply, click on the message you want to reply to and hit "Reply." Manage your folders by clicking on "Folders" at the top left corner of your screen.